ALL-NEW CITROEN C3
The All-New Citroen C3 is finally here and is set to be a sensation in the small car market. It's very fashionable, is characterised by a trendy and optimistic design, animated by coloured inserts. With its expressive and unique shape making it immediately recognisable in its segment. Style, personalisation, Citroën Advanced Comfort®, new technologies and ConnectedCAM Citroën ™.
Call Bristol Street Motors Citroen now or complete your details below and we'll give you a call to arrange your Test Drive.
Burton Citroen - Call 01283 758295
Derby Citroen - Call 01332 941640
Leicester Citroen - Call 01164 040661
Nottingham Citroen - Call 01158 958495
CITROËN ConnectedCAM: Action!

The ConnectedCAM Citroën™ on New C3 means you can film spectacular scenery, unusual locations and cityscape. This new system uses a camera fitted behind the rear-view mirror to film what the driver sees through the car windscreen. It provides a video log of your everyday driving experiences: - Just click to take a photo and share it on social media. The camera films and stores what's happening in front of you, so it could also provide valuable information in the event of an accident.
CUSTOMISATION CAPABILITIES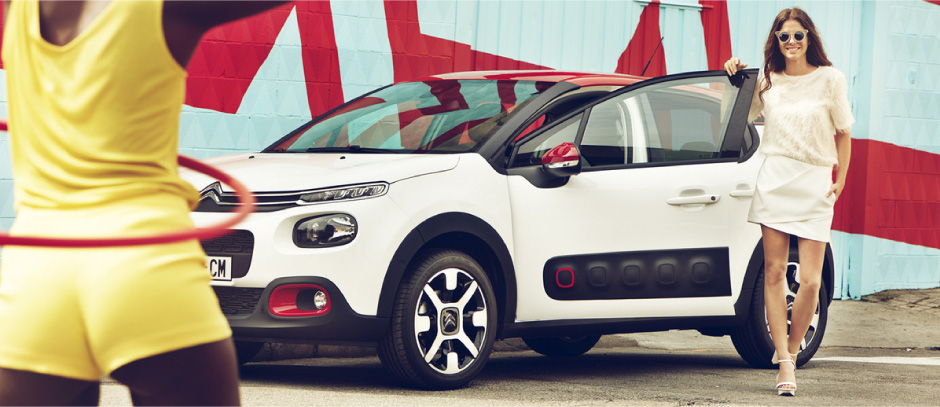 You're able to customise New C3 in numerous ways : monotone or bi-tone? With or without Airbump®? Bright or muted interior? The choice seems almost limitless.
Metropolitan Grey Ambiance

This uncluttered interior mood features light colours for the seats and dashboard, expressing simplicity, wellbeing and brightness.

Urban Red Ambiance

This interior ambience, with colour features on the seats and dashboard, radiates the sort of energy and vitality typically associated with an urban environment.

Colorado Hype Ambiance

This trendy interior ambience is a fashion statement, with upholstery featuring an elegant blend of fabric and leather-look.
Panoramic Sunroof

New Citroën C3 offers both driver and passengers an exceptionally bright interior, enhancing the sensation of space and contact with the world outside. The amount of brightness is adjustable using the sunroof blind.

Cabin Comfort

Seating in New Citroën C3 is eminently comfortable. You could almost be in your living room! And the dashboard design enhances the impression of space and width.

The interior style has a decidedly non-automotive feel, with leather strap door handles and a tactile dashboard.
DRIVER ASSISTANCE SYSTEMS : EVERYTHING FOR YOUR SAFETY
Hill-Start Assist

When on gradients of 3% or more, Hill-start assist technology stops you rolling backwards when the brake is released by holding the vehicle for about two seconds.

Blind-Sport Monitoring System

The blind-spot monitoring system detects whether there is a vehicle in the blind spot, and shows this as a pictogram in the wing mirror. This system, which uses the same principle as a reversing sensor, is a valuable safety feature on busy roads and motorways.

Navigation System

In addition to the connected radio, navigation system helps you avoid traffic jams, improve the guide with the representation of the 3D mapping. The major European cities are mapped in 'FULL 3D ', that's to say many buildings and monuments are already materialized, textured and three-dimensional.

Reversing Camera

For trouble-free manoeuvring, when the reverse gear is engaged an image of the rear of the vehicle is shown on the 7 inch touchscreen. Colour markers highlight the distance between the car and any obstacles.

Your Details