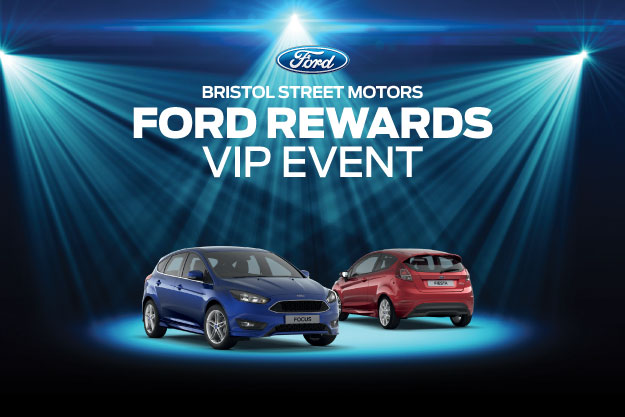 PUTTING GREAT VALUE CENTRE STAGE
The latest range of Brand New Ford's are available at Bristol Street Motors in our FORD REWARD VIP New Car Event - and you have been specially selected to take advantage of some unbeatable offers.
Take a VIP test drive and as a Bristol Street Motors customer you will qualify for THE FORD REWARD... Exclusive and substantial upgrade savings and support offered across the entire new car Ford range including...
AN EXTRA £500 DISCOUNT

LOW RATE 2.9% APR FINANCE REPRESENTATIVE

UP TO £1700 FINANCE DEPOSIT ALLOWANCE

2 YEARS FREE SERVICING
Ford UK have allocated a substantial FORD REWARD to a selected number of customers, it's value and offer depending on which car you currently drive and the upgrade you are interested in. Your reward is available to you immediately and can be redeemed at our dealership on any Brand New Ford ordered by 31st July 2016. In addition to this you can take advantage of any other saving of Ford offers advertised.
To secure your appointment and find out more about the value of your exclusive FORD REWARD, you need to respond now and get in contact with us straight away. You can phone us or simply call into the dealership to discuss your options.
With the very best prices been paid for your current car, there has never been a better time to buy a brand new Ford. We urge you to act now, use your FORD REWARD and upgrade today!

ENQUIRE BELOW FOR MORE DETAILS
Your Details