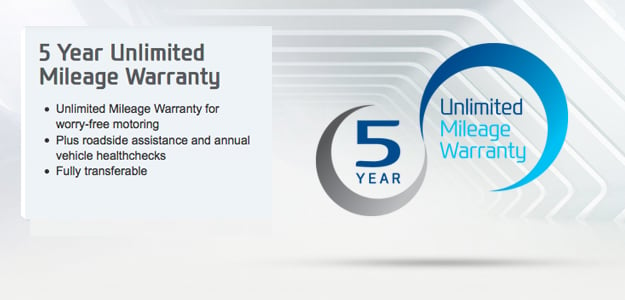 5 Year Unlimited Mileage Warranty
Pioneering Peace of Mind
From the production line to the showroom and beyond, the passion and belief we have in the quality of our products mean we can offer an aftercare package to match.
In 2002 we were the first car manufacturer to introduce a 5 Year Warranty. Today, we are still the only car manufacturer to offer an unlimited mileage* guarantee for this period, as standard on all of our passenger cars.
Not content with the best warranty in the industry, on the 1st July 2011, we made it better by including 5 Year Roadside Assistance and 5 Years of Annual Vehicle Health Checks, offering you unlimited miles of stress free motoring.
5 Year Unlimited Mileage Warranty*
A 5 year, manufacturer-backed Unlimited Mileage Warranty, so you can drive with complete peace of mind at all times. In addition, the bodywork is covered by up to 12 years' Anti-perforation Warranty. Visit the 5 Year Warranty page for more details.
5 Year Roadside Assistance**
24 hour roadside assistance should you ever need it, anywhere in the UK or Channel Islands, with Onward Travel cover included to get you home if your car can't be fixed at the roadside.
5 Years of Annual Vehicle Health Checks
A free, expert visual inspection by your Hyundai dealer on key areas of your car, to help spot any problems and ensure trouble-free motoring.
* Excludes Light Commercial Vehicles and cars for taxi or private hire usage. For further information please visit the 5 Year Warranty page.