ONE DYNAMIC PHILOSOPHY
THREE ELECTRIC INTERPRETATIONS
Introducing IONIQ – the first car in the world to offer separate hybrid, full electric and plug in hybrid powertrains within one body type. Seductively styled with smart technology and a driving experience that's responsive and rewarding, IONIQ represents the next-generation in eco-friendly vehicles.
IONIQ Hybrid and IONIQ Electric launch in late 2016, the line-up will be completed in mid 2017 with the IONIQ Plug-in hybrid (PHEV).
Every IONIQ will share the same unique platform.
With three exceptional powertrain options in one beautifully designed car, it's easier to make better choices when all the choices are better.

THREE WAYS TO ELECTRIFY YOUR DRIVE
CHOOSE THE IONIQ THAT SUITS YOUR LIFE
Deciding on the right IONIQ for you depends on how often you drive, how far you drive, and your driving style. Whichever powertrain you choose, you'll enjoy a rewarding driving experience and a car that fits perfectly with your lifestyle. Here's a brief overview of the advantages of each IONIQ powertrain.
IONIQ HYBRID
Driving fun with lower emissions

The IONIQ Hybrid delivers performance, impressive efficiency and low emissions. It does this by combining an advanced electric motor which delivers acceleration immediately on start-up with our latest 1.6 GDi petrol engine - quietly engaging once IONIQ reaches optimum speed. The electric motor recharges on the move, while a Dual Clutch Transmission delivers smooth automatic gear changes. The Hybrid is the perfect replacement for any family hatchback on the road today.

IONIQ PLUG-IN
Best of both worlds

The IONIQ Plug-In Hybrid can be driven in electric only mode, giving you up to 31 miles of emission-free driving – ideal for your daily commute. The 45kW electric motor is powered by a battery which recuperates energy on the move and is recharged via a charging cable. When working in tandem with the 1.6 GDi petrol engine you can enjoy a considerable performance boost with no restriction on how far you can drive.

IONIQ ELECTRIC
No emissions. No compromise.

A leader of the electric car revolution, the IONIQ Electric allows you to drive for up to 174 miles on a single charge – all emission-free. It achieves this via an 88 kW electric motor designed to enhance the driving experience with its torque-rich performance. The motor is powered by an efficient 28 kWh Lithium- Ion Polymer battery located low in the chassis. This lowers the car's centre of gravity, providing optimum handling and responsiveness on the road.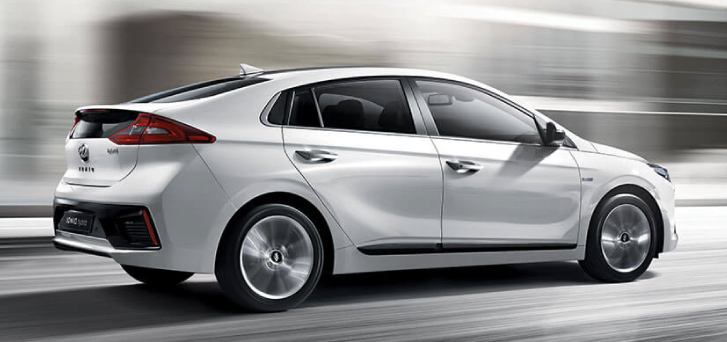 SIMPLY ELECTRIFYING
THE IONIQ DIFFERENCE
No other car has been designed from the ground up to be powered by three different electrified drivetrains. Within the robust and lightweight body are high-performance components that have been specially designed and engineered to work perfectly with each other.
| | | | |
| --- | --- | --- | --- |
|   | THE PLUG-IN | THE HYBRID | THE ELECTRIC |
| ENGINE |   |   | - |
| E-MOTOR |   |   |   |
| DCT |   |   |  - |
| BATTERY |   |   |   |
FULLY CHARGED
INSIDE AND OUT
IONIQ is defined by its innovation and high-tech design. Inside, controls are clearly organised for logical, intuitive operation. While clever technology helps get the best out of every journey. On the outside IONIQ, delivers a clean athletic sillouhette. The sophisticated and contemporary exterior design turns heads for all the right reasons.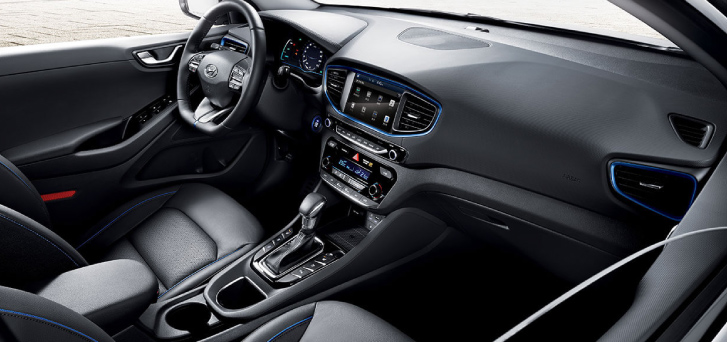 ANATOMY OF THE IONIQ
STRENGTHS NOT VISIBLE TO THE EYE
With a drag coefficient of just 0.24 the IONIQ is one of the most aerodynamic cars on the market. The sleek silhouette and finely tuned details harness airflow to minimise air resistance and emissions.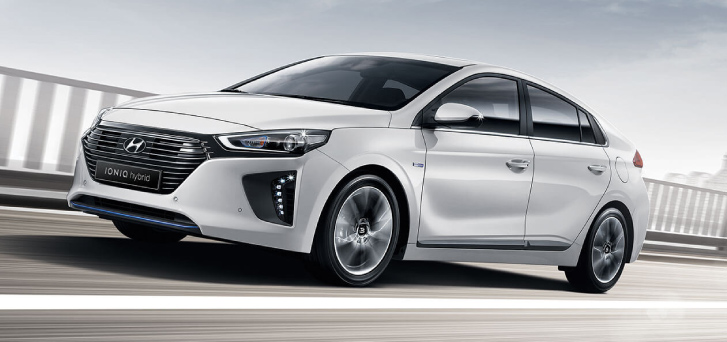 STAY CONNECTED
FOR THE LATEST IONIQ NEWS
We don't want you to miss any news about the three electrifying IONIQ models.
Enquire below for more details.
Your Details