ALL-NEW JEEP RENEGADE SIGNED BY THE ROLLING STONES NOW UP FOR AUCTION
19/12/2014 17:28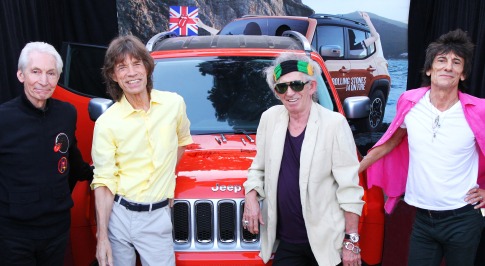 ALL-NEW JEEP RENEGADE SIGNED BY THE ROLLING STONES NOW UP FOR AUCTION
Jeep was the Presenting Sponsor and exclusive automotive partner of the Rolling Stones' spectacular "14 On Fire" European Tour that ran this year.
The Grand Cherokee, Jeep's most awarded SUV played a key role through the 26 May to 2 July and was a great opportunity to preview the new Renegade which was signed by each member of the band: Mick Jagger, Keith Richards, Ronnie Wood and Charlie Watts.
The Jeep is currently being auctioned until the 23 December for Charity Buzz a charity that raises money for nonprofits around the globe by auctioning off unique items and experiences.
The vehicle in question was signed in Rome, against the spectacular backdrop of the Circo Massimo, on 22 June at the only Italian date of the tour. Previewed for the first time was the new Jeep Renegade in Italy in the ancient Roman stadium following its international début at the 2014 Geneva Motor Show.
An ideal location for its Italian preview, given that Renegade is the first ever model in the brand's history to be built in Italy and the first Fiat Chrysler Automobiles vehicle to emerge from the collaboration of Italian and US designers.
Sold in over 100 countries around the world, the SUV has unique personality and boasts class-leading off-road capabilities and more than 60 innovative safety devices. It is the only car in the segment to offer 9-speed automatic transmission, two drive systems, rear axle disconnection device and an instrument panel complete with 7" display.
The first Compact Jeep SUV in the EMEA region comes in four different trim levels; The Sport, Longitude, Limited and Trailhawk and goes on sale early next year in the UK.
Tamsin Fewkes
by: Becca Chaplin