Bristol Street Motors Durham Vauxhall celebrates award
24/04/2018 15:02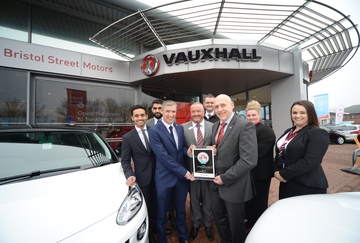 Bristol Street Motors Durham Vauxhall celebrates award
Bristol Street Motors Durham Vauxhall is celebrating after being recognised with a national award for its dedication to customer service.
The Abbey Road dealership was named as one of the top-performing sites, for customer service, in Vauxhall's Customer Excellence awards. To determine the winners, the British manufacturer considers feedback from customer surveys, across its UK network of retailers, on the quality of service they received in terms of sales, service and after-service.
This is the fourth time in five years that Bristol Street Motors Durham Vauxhall has won the award. It was presented by Mike Wright, plant director at Vauxhall Motors, at the dealership.
Shaun McGill, general manager at Bristol Street Motors Durham Vauxhall said: "Customer service is vital to the success of our dealership and we want any customer visiting to feel that they have received the best possible service, and to leave feeling completely satisfied.
"Winning the Customer Excellence award from Vauxhall is fantastic, as its recognition from the brand that we are doing a good job, but also that exemplary customer service is being delivered on a regular basis. I could not be prouder of the team."
Mike added: "Bristol Street Motors Durham Vauxhall offers outstanding levels of customer service, as endorsed by its own customers. The sales, service and every member of the team is completely customer focused every day, their dedication and enthusiasm helps Durham Vauxhall to deliver an all-round outstanding customer experience."