Bristol Street Motors Newcastle Vauxhall Motability award
19/04/2018 11:45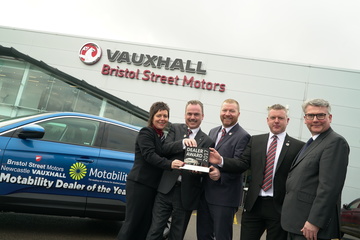 Bristol Street Motors Newcastle Vauxhall Motability award
Bristol Street Motors Newcastle Vauxhall is celebrating winning a national award from Motability Operations.
The dealership was recognised as 'Dealer of the Year' in the Motability Scheme's annual awards.
The award marks the fourth time in five years that Bristol Street Motors Newcastle Vauxhall has been named as 'Dealer of the Year'. The Motability Dealer Awards recognise and reward best practice among the nationwide dealer network. The awards are judged on how a dealer delivers the Scheme to customers, and are assessed by customer feedback and reviews of Motability performance.
Gavin Gray, who has worked at the site for 35 years and as a Motability specialist for 30, has also been acknowledged in the awards in recent years. He was presented with Motability Specialist of the Year in 2008, 2010 and 2012, and the Outstanding Contribution Award in 2015. In addition to Gavin, the dealership also has another two sales executives, Steve Pemberton and Lauren Sewell, who assist customers with the Motability Scheme.
The Scheme enables disabled people to exchange their Higher Rate Motability Component of Disability Living Allowance, their Enhanced Rate of the Mobility Component of Personal Independence Payment (PIP), their War Pensioners Mobility Supplement (WPMS) or their Armed Forces Independence Payment (AFIP) for a new car, scooter or powered wheelchair.
Nick Harding, general manager of Bristol Street Motors Newcastle Vauxhall said: "Customer service is extremely important in every aspect of the business and that has been reflected in this award, which is based on customer feedback and Motability performance.
"The Motability Scheme aims to help eligible people with 'worry free motoring' and Gavin, Steve and Lauren excel at delivering that to our customers. Gavin has been at the dealership for many years and has built up a loyal customer base. Customers return time after time and also recommend Gavin, and his expertise is a major driver behind our success."
Gavin added: "It is an honour to win an award that reflects how customers feel, and their confidence in us. I love my job and take genuine pleasure out of meeting with new and existing customers, some of which have been with us for more than twenty years, and providing them with a life-changing solution.
"The Motability scheme makes a genuine impact on people's lives and we will continue to represent ourselves as a proud partner of the Scheme in the future."
Richard Povey, dealer development manager – dealer relations at Motability Operations, added: "We are really impressed with the achievements of all our winners including Bristol Street Motors Newcastle Vauxhall. It's great to see the high level of service delivered by our dealer network and we are pleased to present the latest Motability Scheme Dealer Awards. The annual Awards allow us to thank dealers for providing consistently positive customer service, highlighting those who are doing it well and encouraging others to do the same.
"It is testament to the high standards, warm welcome and expert knowledge of Bristol Street Motors Newcastle Vauxhall that they have been recognised as a winning dealership – congratulations to them for their well deserved Motability Scheme Dealer Award."