Ford Fiesta ECOnetic prepares for launch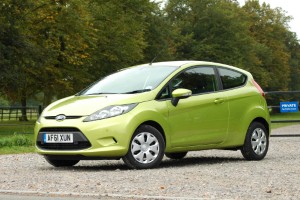 The most economically-friendly Ford Fiesta, the ECOnetic, looks set to save drivers a raft of money.

According to the famous American car manufacturer, its new Fiesta model packs in a 1.6-litre, turbo-diesel engine that can achieve 85.6mpg.

Such a statistic means that the Ford Fiesta ECOnetic is capable of giving owners an incredible range of 800 miles, which would cut back the amount of time spent at a fuel station considerably.

Reviewers at the Daily Record newspaper decided to put this theory to the test and were able to reach a respectable 77.8mpg on a two-hour journey around the countryside of Essex.

Even this figure puts the Fiesta ECOnetic up there with the best economically-friendly cars on the market right now, with the 85.6mpg figure eclipsing even some of the most popular hybrid vehicles of the moment.

For those concerned more about power and speed, the vehicle's 1.6-litre, turbo-diesel engine can reach 60mph from rest in less than 13 seconds, before reaching a top speed of 111mph.

Other eye-catching features about the new Fiesta model include the fact that it comes with stop/start technology, to help the environment even more, as well as regenerative braking, aerodynamic panels and low rolling resistance tyres.

Ford is also making it easier than ever to get to grips with one its cars, as the Fiesta ECOnetic's instrument panel comes complete with an eco mode display.

Glimpse over at this system and drivers can see how they are performing for fuel efficiency, as well as a gear shift indicator to limit the amount of revs while journeying from A to B.

Drivers can choose to purchase the Fiesta ECOnetic in a collection of versions, which range from a three-door model that is finished with an Edge trim to a five-door version etched in an eye-catching, high-grade Titanium finish.