Meet The All-New Hyundai IONIQ 5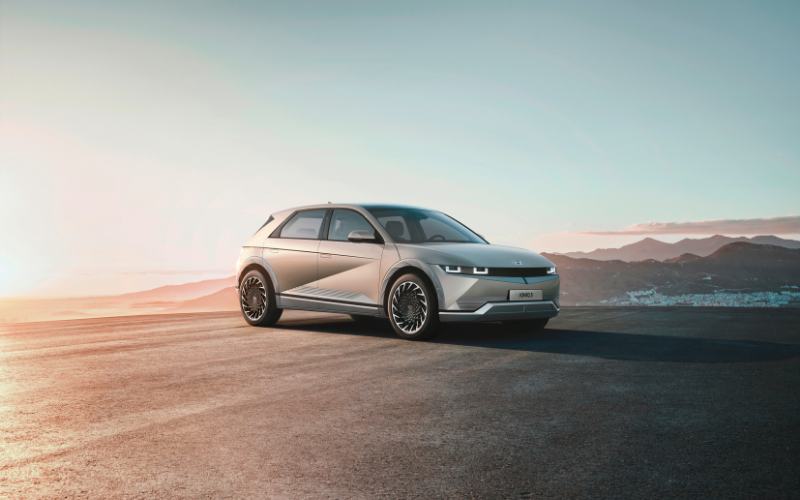 The IONIQ 5 all-electric, midsize CUV is here! Get to know what makes it special and watch Hyundai's official reveal...
The IONIQ 5 CUV is the first model to sit under the new IONIQ brand, which has been created specifically for Hyundai's electric vehicle range and will be followed by the IONIQ 6 sedan, in 2022, and the IONIQ 7 large SUV, in 2024.
The release of the IONIQ 5 is ground-breaking and highlights the future of electric mobility, with sustainable and innovative features incorporated to suit a range of lifestyles and enhance the driver's overall experience.
Watch the official reveal of the all-new Hyundai IONIQ 5:
Thomas Schemera, Executive Vice President and Global Chief Marketing Officer, said: "IONIQ 5 will accommodate lifestyles without limits, proactively caring for customers' needs throughout their journey.
"It is truly the first electric vehicle to provide a new experience with its innovative use of interior space and advanced technologies."
Let's take a closer look at what the Hyundai IONIQ 5 has to offer:
ELECTRIC PERFORMANCE
Drivers can choose from two battery pack options - 58 kWh or 72.6 kWh – to suit their lifestyle needs.
The top-level models come equipped with an AWD option which, when combined with the 72.6 kWh battery, increases torque output to a staggering 605 Nm.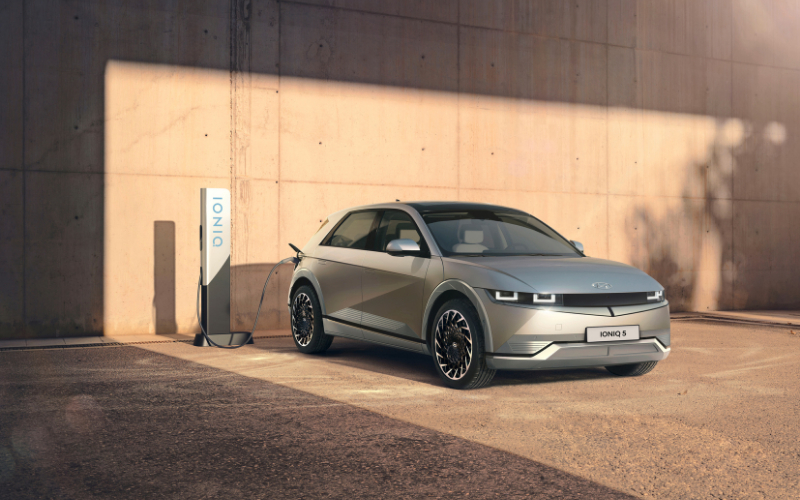 If drivers opt for the two-wheel-drive (2WD) and 72.6-kWh battery, the IONIQ 5 will deliver up to 292-298 miles of range, making it the perfect EV for all journeys, long and short.
For charging, the IONIQ 5 supports both 400-V and 800-V charging infrastructures and can be charged from 0-80% in as little as 18 minutes when plugged into a 350-kW charger.
EXTERIOR DESIGN
There's no denying that the IONIQ 5 is one-of-a-kind when it comes to design.
The sharp edges, yet clean-cut exterior creates a futuristic style ensuring the IONIQ 5 will stand out on every road.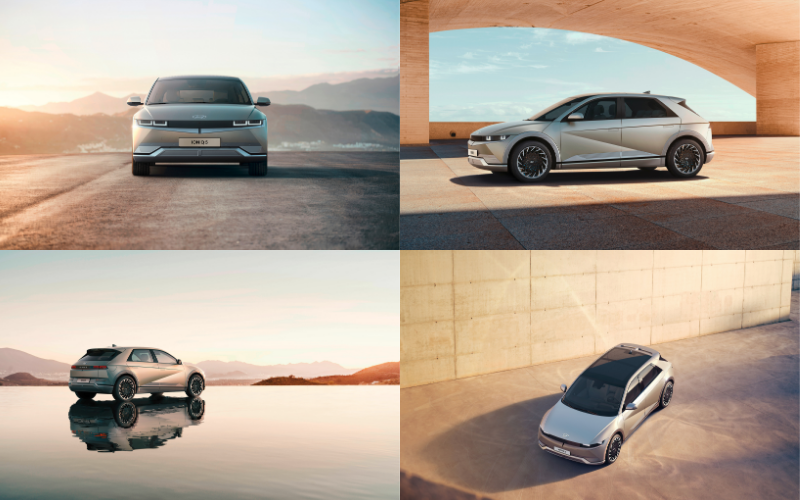 The front end generates a piercing look, with the striking V-shaped daytime running lights establishing an iconic finish for the IONIQ 5.
The clamshell hood makes its debut, too, which helps to eliminate panel gaps to increase the aerodynamics of the vehicle as well as creating a smooth, sleek look.
INTERIOR STYLING
The cabin area of the IONIQ 5 has been designed more like a living space, where comfort and sustainability are obtained on every journey.
The Universal Island is the centre console that can be adjusted to increase space and, combined with the flat floor, enables passengers more freedom to move inside the cabin.
SangYup Lee, Senior Vice President and Head of Hyundai Global Design Centre, said: "IONIQ 5 is a statement of design that offers an optimistic look at what customers can expect in the new EV era. The long-wheelbase is translated to a new dimension of space. We designed this special space as a perfect place to recharge – your home away from home."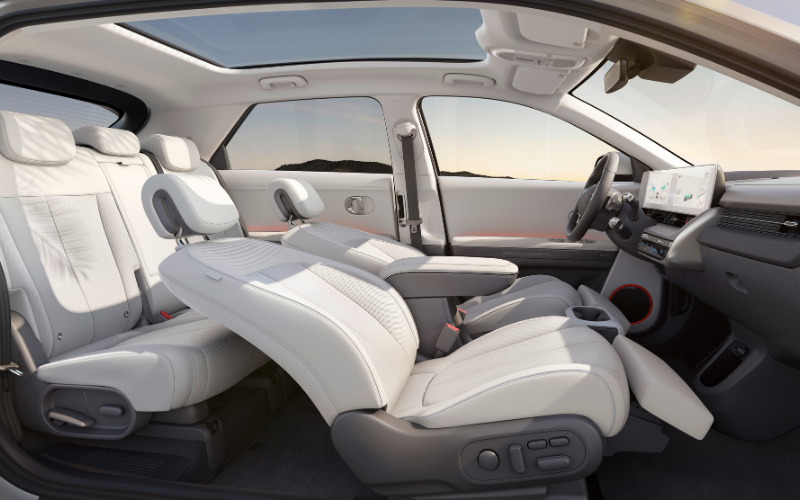 The seats are made from eco-processed leather that has been dyed and treated with plant oil extractions, optimising comfort whilst helping the planet. Smaller details, like the dashboard, switches, steering wheel and door panels, have been coated in a polyurethane bio paint composed of oils from rape flowers and corn for the perfect finishing touch.
The neutral colour palette enhances the modern, contemporary design of Hyundai's new EV, establishing a clean and calming environment to take the stress out of everyday living.
TECHNOLOGY FEATURES
Hyundai has installed the latest Bluelink connected car services, which enables drivers to control their IONIQ 5 through voice and smartphone control, making their overall driving experience so much easier.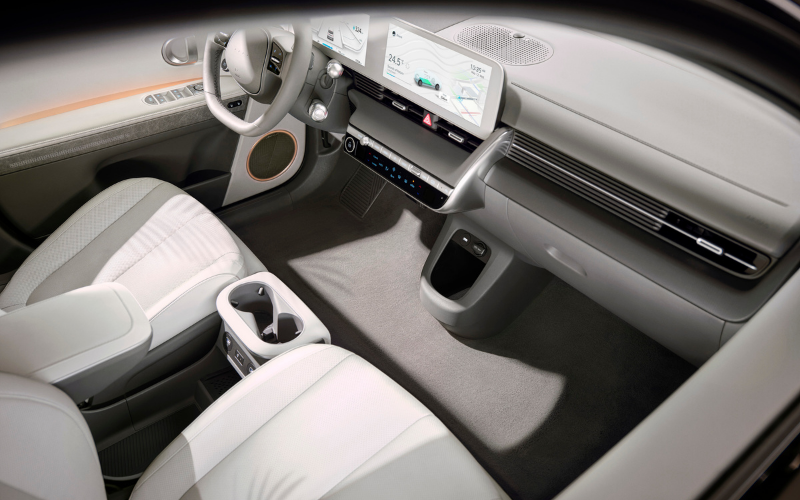 Safety has also been enhanced due to innovative technology and driver aid systems built-in. This includes Highway Driving Assist 2, Forward Collision-Avoidance Assist, Blind-Spot Collision-Avoidance Assist and Intelligent Speed Limit Assist, as well as cameras to the front and rear to help detect any obstructions when parking and manoeuvring.
At the launch, Hyundai also debuted the special edition model – Project 45. Customers who are interested in the limited edition IONIQ 5 'Project 45' model, will be able to reserve it online and benefit from being the first in the UK to take delivery, which is expected to begin in the summer.
All-New IONIQ 5 FAQs
Q: Can I pre-order my IONIQ 5?
A: Full specification and pricing is expected to be available from late May. Please speak to your local Bristol Street Motors Hyundai dealer.
_______________
Q: What is the official maximum range?
A: These are the results from the Worldwide Harmonised Light Vehicle Test Procedure (WLTP):
72.6 kWh, 2WD, 19" wheels: 300 miles

72.6 kWh, 4WD, 19" wheels: 287 miles

72.6 kWh, 2WD, 20" wheels: 281 miles

72.6 kWh, 4WD, 20" wheels: 268 miles

58 kWh, 2WD,19" wheels: 240 miles
_______________
Q: Where is the charging input point on the new IONIQ 5?
A: It is located at the rear on the right-hand side.
_______________
Q: What are the trims available?
A: There are three trim levels available:
SE Connect

Premium

Ultimate
_______________
Q: Can the rear seats accommodate 3 children / child seats?
A: The IONIQ 5 is very spacious and can comfortably accommodate 3 adults or children in the rear seat. There are isofix points on the outer rear seats and one in the front passenger seat.
_______________
Q: What is the battery warranty?
A: 8 years or 100,000 miles for the high voltage battery.
For any more information or to make an enquiry, visit us online or call your local Hyundai dealership today.
Take a closer look at the IONIQ 5's interior