New video from SEAT gets to the heart of Leon production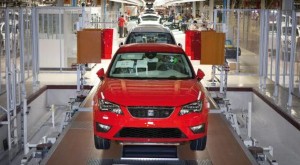 SEAT has released a unique insight into the construction of the popular Leon model, with a fast-motion video demonstrating the vehicle being put together piece-by-piece.

GoPro cameras were used to take the footage, with the durable technology placed at the heart of the Martorell production line and travelling through the factory.

A standard Leon ST is made up of 5,900 separate parts, in addition to 1,580 metres of cable. It also takes 19 hours to complete a single model from scratch.

At the Martorell factory in Barcelona, Spain, ten SEAT models are constructed on four different platforms, with 10,000 employees needed in addition to 2,800 robots. All this effort produces up to 2,000 cars per day.

The facility is celebrating its 20th anniversary this year and currently has some of the most modern equipment in any plant around the world. Furthermore, SEAT has intended to use the most environmentally friendly machines available to complete each specially designed model.