"Spectacularly easy to drive" Seat Alhambra given rave review
02/12/2010 11:55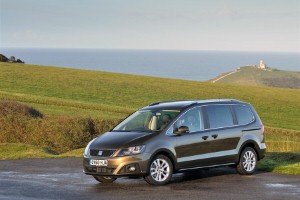 Alhambra is available with a choice of petrol or diesel engine.
The new Seat Alhambra is "very spacious" and boasts an impressive interior design, one reviewer has stated.

According to Honest John, the second generation model follows its successful predecessor, released in 1996.

The bigger model offers environmental improvements, with all versions falling below the 150 g/km emissions mark, while it can achieve an average of around 50 miles per gallon.

It is available with a 150bhp 1.4 TSI petrol engine or a 2.0 TDI with either 140bhp or 170bhp.

"The Alhambra is refined and quiet, making it ideal for long distances, and it's spectacularly easy to drive with precise controls, neat handling and good all-round visibility," the reviewer notes.

Seat's TDI version comes with a six-speed manual transmission as standard.

Honest John noted that the Seat Alhambra is "not thrilling to look at", but added that few MPVs are.

The five-door version features 2,297 litres of load space if the back seats are collapsed.

It was designed with large families in mind, Seat notes.