Vauxhall releases new Corsavan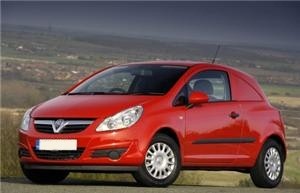 Vauxhall has announced the release of a new commercial vehicle that could appeal to fleet managers.

The Vauxhall Corsavan exoFLEX is the first of the manufacturer's commercial models to boast start/stop technology, which automatically shuts off the engine when the van is idle to save fuel and cut emissions.

Its new Euro 5-compliant 1.3 CDTi (75PS) models are therefore able to achieve 70.6mpg, a 12 per cent improvement on the Euro 4 model.

The Corsavan also features a new enhanced starter motor, high performance battery and electric power management system for rapid restarts.

Vauxhall states: "When the traffic lights turn green, the driver simply presses the clutch pedal to restart the engine. Naturally, the vehicle's ventilation, power steering and braking system performance are maintained while the engine is temporarily off."

Drivers can opt to turn off the start/stop function on the new car via a dashboard button.

In other news, Vauxhall recently extended a lifetime warranty offer to all new models registered after August 1st.