Volvo Derby colleague is Volvo's Apprentice of the Year
06/10/2016 17:29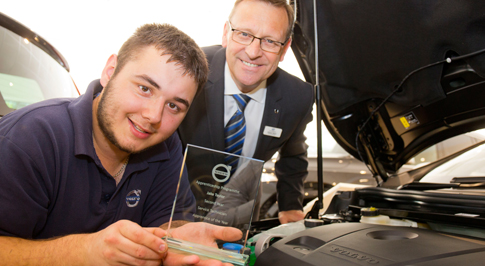 Volvo Derby colleague is Volvo's Apprentice of the Year
Bristol Street Motors Volvo Derby are celebrating after a colleague has been named as Volvo's Second Year Service Apprentice Technician of the Year.
19 year-old Jake Taylor received the prestigious accolade after impressing his tutors during his time studying at the Swedish car manufacturer's Daventry training centre.
Having completed a mechanics course at West Nottinghamshire College, Jake undertook work experience with the Sir Frank Whittle Road dealership and impressed so much he was offered an apprenticeship.
Jake has always had a passion for mechanics and has long held ambitions of becoming a mechanic like his father, Darren, who is the Master Technician at Bristol Street Motors Volvo Derby.
Jake said: "I'm exceptionally proud to be named as Apprentice of the Year by Volvo. I've always had a passion for cars and I've been fascinated by learning how they work as far back as I can remember."
"I think I had an advantage compared to most other people on the programme because I've been learning since I was old enough to pass my dad the spanner whilst he tinkered away in our garage.
"I get a huge amount of satisfaction from finding a fault and fixing it. The more difficult the problem, the greater the sense of accomplishment. I really do have my dream job, and I'm so grateful to Volvo and Bristol Street Motors for giving me this opportunity."
Bob Bean, general manager at Bristol Street Motors Volvo Derby, said: "Everyone at the dealership is over the moon for Jake and he should be very proud of his achievement. He has been one of the most committed and enthusiastic apprentices we've ever had. If he takes after his dad he will a first class master technician very shortly."
Helen Davis, Volvo Car UK Recruitment and Engagement Manager, said: "Our Retailers have an immediate need to increase their capacity as our volumes increase. They recognise the benefits of the Volvo Apprentice Programme to help them grow their talent pool.
"It is very rewarding to see outstanding young people like Jake develop their career within the Volvo Retailer network within our programme, and a privilege to be able to recognise their achievements."