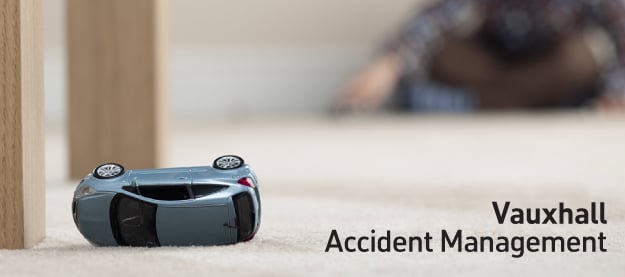 In the event of an accident, make sure you come running to us.
Unfortunately, accidents happen. But sometimes when they do, insurance companies prefer customers to use a bodyshop selected by them, rather than you, the customer. This often means genuine parts are not fitted to your car. In other words, your Vauxhall is not having the Vauxhall treatment it deserves. With our Accident Management, we'll make sure that doesn't happen. In fact, we'll take care of everything. Recovery*, courtesy car, repairs and more.
How we help…..


*Accident recovery is provided when you use Vauxhall Accident Management to handle your claim on your behalf, either with your insurance provider (where the accident was your fault) or with the third party insurance provider (in the instance where the accident was not your fault). If you cancel the recovery of your vehicle you will be liable for any cancellation charges. If your insurer rejects your claim you will be liable for any recovery costs incurred. Vauxhall Accident Management is provided on behalf of General Motors UK Limited t/a Vauxhall by Retention UK Ltd, which is registered in England and Wales Company No. 05687158 at Batchworth House, Church Street, Rickmansworth, Herts, WD3 1JE and regulated by the Claims Management Regulator in respect of regulated claims management activities. Retention UK Ltd is an appointed representative of Original Insurance Services Ltd which is regulated by the Financial Conduct Authority. This service may be reduced if you are not comprehensively insured or your policy has restriction in cover. Calls to 0333 numbers cost the same to call as geographic UK landline numbers (starting 01 and 02). They are also included as part of inclusive call minutes and discount schemes from all major mobile phone and landline operators or where this has been exceeded, charged at the standard geographic rate.