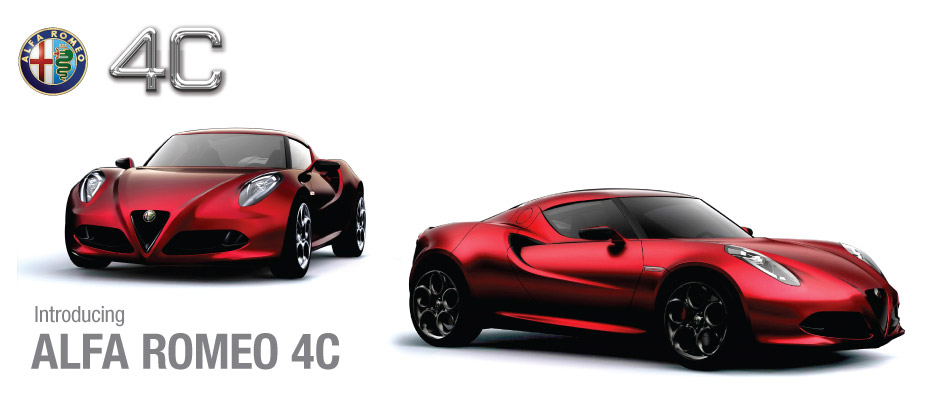 The Alfa Romeo 4C truly is a piece of machinery that people just have to stop and admire.
As the Alfa Romeo 4C launches onto UK roads, it is quickly becoming apparent that the dreams that the firm's engineers had about this car are coming to fruition.
During the 2012 Concorso d'Eleganza at Villa d'Este ceremony, for example, the supercar excelled when it was entered to take part in a design content strategy for 'concept cars and prototypes'.
By the end of this occasion, the 4C Concept had emerged with the illustrious Concorso d'Eleganza award Ė beating off competition from the stunning Aston Martin AM310.
A few months later the Italian manufacturer was celebrating after seeing its brand-new supercar voted the most exciting car of 2013 by the readership of What Car? In order to achieve this feat, the 4C Concept had to keep competition from the BMW i3, the McLaren P1 and the Mercedes-Benz CLA at bay
Damien Dally, the head of brand at Alfa Romeo UK, stressed: "This is a very special award for Alfa Romeo to receive as it's voted for entirely by members of the public and shows the high level of excitement and anticipation for this stunning future Alfa. "We are very much looking forward to the launch of the 4C later this year and we are confident it will live up to the huge interest it is generating."

What makes the Alfa Romeo 4C so appealing?
It is fair to say that one of the main selling points of the Alfa Romeo 4C is just how good it looks.
What Car? had picked up as much when commenting on its readership voting it the most exciting car of the next 12 months. The publication wrote: "The readers of whatcar.com have gone for glamour when they nominated the car they're most excited by in 2013. The Alfa Romeo 4C has the potential to not only look beautiful, but be great to drive too."
It is not just the vehicle's smooth bodywork, its slick curves or the amazing and unique "Lava Red" paintjob that drivers should be excited about though. Of course, such features do help catch the eye, but motorists also need to make note of the engine is connected transversely and centrally to create an innovative mechanical set up.
This arrangement effectively enables the supercar's rear to offer plenty of strength and a deeply characteristic structural look.
At the same time, the front is composed of two long muscles. It is with this particular design that the vehicle's unique front mudguard is created, which rounds out with a V shape that is decorated with Alfa Romeo's traditional and instantly recognisable badge.


For more information please fill out the form below
Your Details