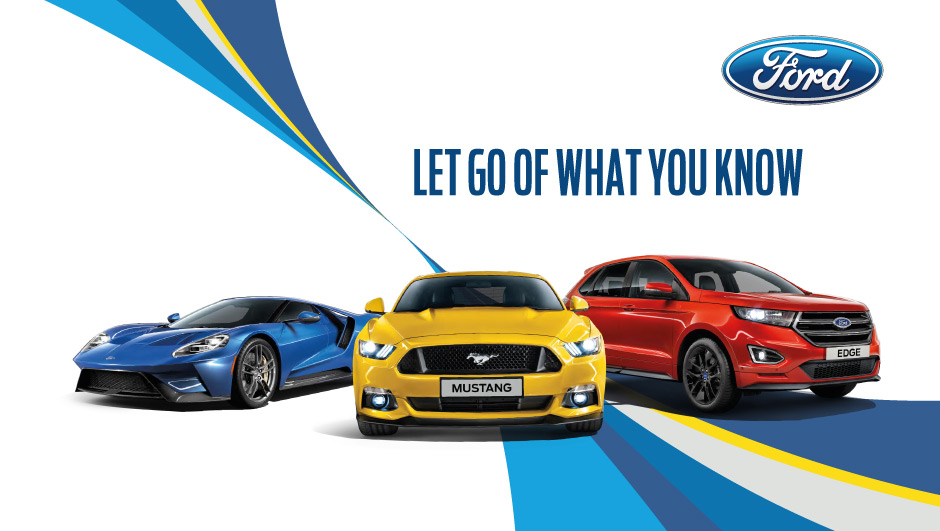 At Ford, we believe that when we cast aside our limiting beliefs, we open our minds to new ways of moving forwards. We call it Unlearn. And itís a way of thinking that helps us make progress in all areas of our industry - and our lives. Itís how weíve created lifesaving innovations such as the inflatable seatbelt and intelligent headlights. Itís how weíre looking into the future with sustainability and mobility at the top of our agenda. Itís how weíve created mould-breaking cars like the Mustang, GT and Edge. Join us as we explore how Unlearn can help us make those surprising and innovative leaps. And how it might help others do the same.




INNOVATION THROUGH PERFORMANCE


This carbon-fibre supercar, is the pinnacle of Unlearn. It's an inspired example of performance-based design, dynamic sports handling, brilliant aerodynamics and what an EcoBoost engine is capable of.

Delivering more than 600 horsepower (608PS) with its fuelefficient, twin-turbocharged V6 engine, this outstanding car is a celebration of 50 years of Ford Performance and our vision of Innovation Through Performance.

Not Only does it demonstrate many of the innovations available in many of our vehicles, it also puts Ford back in the heart of GT racing in the World Endurance Car Championship.

Production of the GT is scheduled for late 2016.


A LEGEND REDEFINED


The Mustang is one of the most hotly anticipated cars we've ever made. The first 130 sold out in the UK in 30 seconds and waiting lists continue to grow. It's not hard to see why.

Its classic, muscular styling is matched with uncompromising performance. The 2.3 litre, 317PS EcoBoost engine delivers some impressive statistics: 145mph and 0-62mph time of only 5.8 seconds while the 5.0-litre 416PS V8 engine delivers exceptional power.

This 20th century icon is thoroughly at home in the 21st century, and is packed with technology to ensure an exciting and rewarding drive every time.








UNCOMPROMISING LOOKS. EPIC PERFORMANCE. LEGENDARY BADGE


The Focus RS is a car born out of an obsession with precision engineering, technology and a passion for motorsport

And also a love of families and the practicalities of everday car use. This unique car is equally at home on the school run or the racetrack.

The 2.3-litre EcoBoost engine pushes the boundaries of possibility, delivering 350PS, 167mph top speed and 1g of lateral acceleration.

And Yet the RS offers all the conveniences, comforts and safety features appreciated by those looking for a family car.


THE EPITOME OF MODERN REFINEMENT


This brand new vehicle tops our SUV range and is sure to attract the attention of Aspirers.

It builds on the success Edge has enjoyed since its US launch where it helped create the crossover SUV segment. The bold, chunky design grabs attention and conveys a tangible sense of quality and modernity. Inside, the cabin offers a premium trim and sports seats.

Aspirers will also respond to the message that it's one of our most technoligically advanced cars ever. The 8-inch HD touchscreen display and SYNC2 technology will hold particular appeal.




†
TECHNOLOGY
Our cars may be leading the way in the Unlearn campaign, but equally important is their innovative technology, which we are constantly developing. These technologies make compelling talking points, as many are designed to improve fuel-efficiency, safety, comfort and connectivity.
ECOBOOST ENGINES
The revolutionary EcoBoost engine delivers the high levels of performance found in larger, heavier petrol engines - yet offers class-leading fuel economy (reducing consumption up to 24% compared to the 1.6Ti-VCT engines) and lowering CO2 emissions. EcoBoost engines have won many prestigious awards, with the 1.0-litre EcoBoost engine picking up the International Engine of the Year award three times, and International Engine of the Year under 1.0-litre for four years running.
SYNC2
Ford SYNC2 Touchscreen with Voice Control takes infotainment systems further than ever thanks to the addition of an 8-inch colour touchscreen. This high-resolution display gives intuitive control of several key functions including phone, audio, climate control (when DEATC fitted) and optional navigation via voice or touch.
ADAPTIVE STEERING
Adaptive Steering makes it easier to manoeuvre a vehicle at low speeds (you need fewer turns when parking, for instance), while at higher speeds it makes wheel response smoother (so thereís less chance of a sudden movement). It increases both driving pleasure and driver confidence.
ACTIVE NOISE CONTROL
Active Noise Control creates a whisper-quiet cabin. It works like noise-cancelling headphones but where they eliminate all outside noise, Active Noise Control is more selective and only affects unwanted noise from the engine, wind, powertrain and road. The system analyses these noises, then generates sound waves through the speakers (without interfering with music or volume levels) to cancel the unwanted sounds out.
ACTIVE PARK ASSIST
For unparalleled ease when parallel or perpendicular parking. This sophisticated technology uses ultrasonic sensors to measure parking spaces and determine whether a car can fit. The computer then steers the car in by itself. All a driver needs to concentrate on is the accelerator, braking and gears.
FRONT SPLIT VIEW CAMERA
This small front camera enhances the driverís view to make pulling out of junctions and parking spaces safer. It shows a split image on the Multi-Function Display, and is like being able to look left and right from the front of the bonnet. It improves awareness of oncoming traffic, pedestrians and cyclists, and ensures greater safety.
INFLATABLE REAR SEATBELTS
These combine the attributes of safety belts and airbags. Sensors quickly determine when they should be deployed and signal the beltís tubular airbag to inflate instantly. This creates a larger surface area to reduce injury in the event of an accident.
†

Your Details