All-New Renault Megane E-Tech Vehicle Tour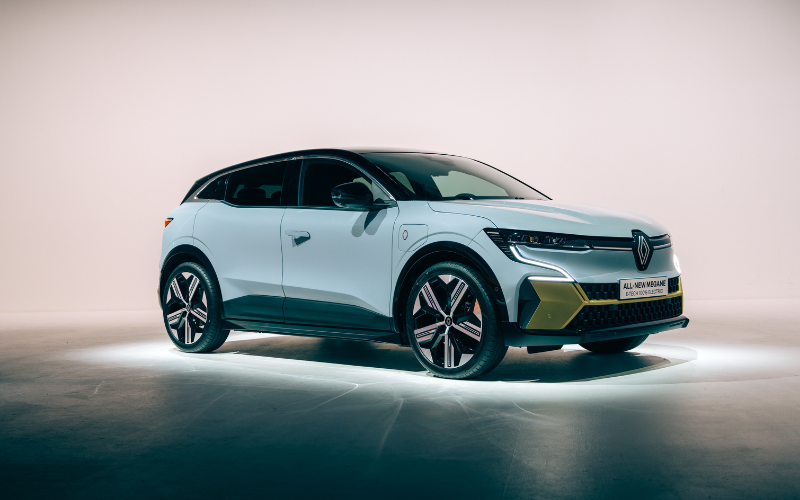 Praised for its light weight, aerodynamic elegance and spacious interior, the all-new Renault Megane E-Tech is set to impress with a fully electric powertrain, and a range of new features for added convenience and style.
Watch the video below for a full vehicle tour or read on to find out more.
Exterior
The all-new Renault Megane E-Tech features a crossover-style body, where sculpted aerodynamic lines create a distinctive, sporty silhouette.
The first thing you might notice is the all-new Renault badge with its updated design. Below this is a front-facing camera for a full 360˚ view of the vehicle, and full LED headlights for improved vision of the road ahead.
The front of the vehicle also boasts a gold chrome accent trim, which is an optional feature designed to give your Megane E-Tech a distinctive, sporty effect.
Moving round to the side of the vehicle, you will see premium 20" alloy diamond-cut wheels which are available in different trims to enhance your vehicle's shape while adding a luxurious style.
Above the front wheel arch is the charging point which only opens when you have the key to your vehicle nearby for added security. Inside you will find handy information on your vehicle's charging for your convenience.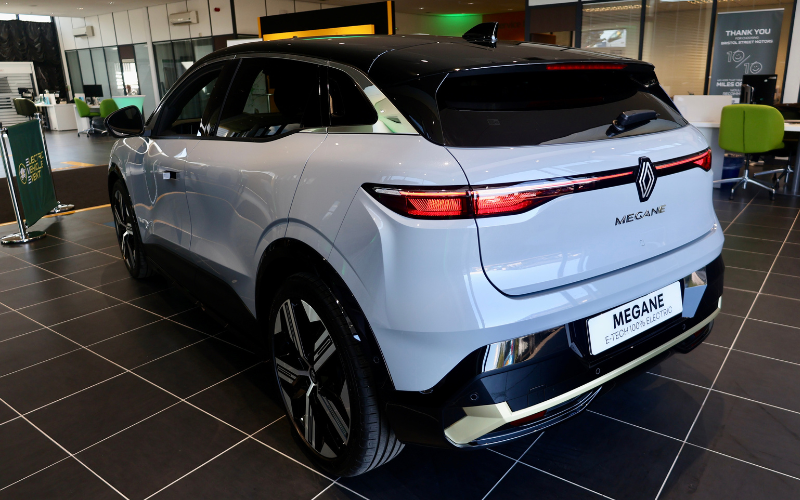 Moving upwards, the Megane E-Tech features contrasting black wing mirrors and a silver chrome finish on the roof, adding to the vehicle's overall eye-catching look. The wing mirrors also feature a camera to assist with blind spot monitoring for improved driver safety.
A keyless vehicle, the handles of the all-new Megane will open automatically as you walk up to your vehicle allowing easy access, revealing a broad, spacious entryway.
The rear of the vehicle also presents some smart, convenient features such as the top rear-view camera which feeds into your rear mirror for crystal-clear view while reversing or manoeuvring. A streamlined lining below emphasises the sleek brake lights, while an additional camera is located below the boot hatch for added convenience while reversing.
The boot opens at the touch of a button revealing a spacious interior with a storage capacity of up to 440 litres, offering plenty of space to store shopping and other belongings in your vehicle.
Interior
Moving inside the vehicle, you will find a spacious interior designed to suit both driver and passengers with plenty of knee room and space above your head for a more comfortable seating position.
There are two USB type-C charging points at the base of the console for charging your phone on the go, and the Isofix points are easy to access for any car seats you may have on board.
Skylights throughout the vehicle enhance the ambience for a more relaxing drive, while the windows are all electric for easy and sustainable operation.
Getting into the driver's seat, you'll notice a wealth of cutting-edge technological features for improved safety and control during your drive- from cruise control and speed limiter to an electric parking brake.
There's also heated seats and a heated steering wheel, meaning that whichever specification you choose you'll be able to take advantage of some fantastic features with your vehicle.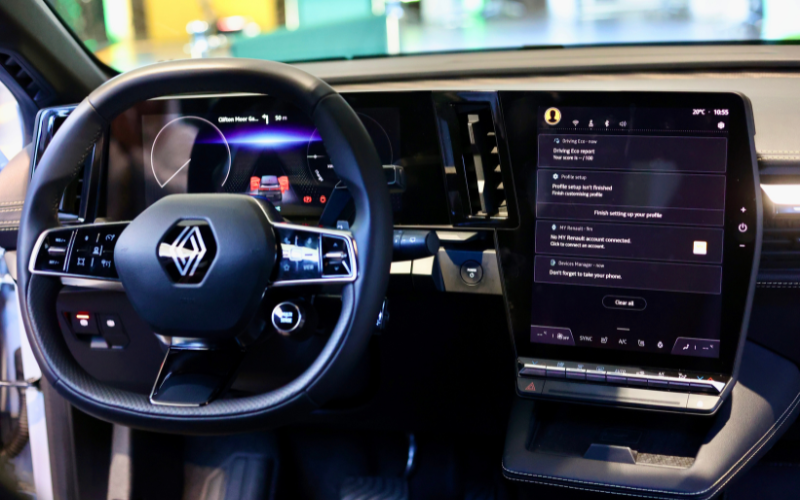 The tablet-sized screen allows you to easily control your vehicle's features, and utilise navigation, listen to music, make calls hands-free, access the user manual and more.
The vehicle's steering wheel sees a flat, curved shape for a sportier feel with the gearshift located on the top lever. The various controls place features such as cruise control and speed limiter right at your fingertips for easy access while on the road.
The Multi Sense control also allows you to select different driving modes, from a more economical drive to sport and normal, with a personalised option also available to help fine-tune your drive.
The all-new Renault Megane is a compact yet spacious light weight vehicle with efficiency and style at the forefront of its design. It's packed with features designed to optimise your comfort, aid convenience, and provide an overall enjoyable driving experience.
Interested? Head down to your local dealership now to find out more or browse our latest deals.
Visit your Local Renault Dealer