Almost three-quarters of drivers 'unaware of EU tyre regulation'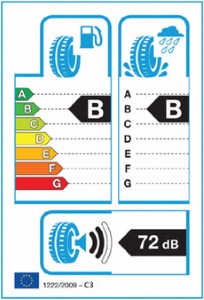 The majority of motorists across the UK are oblivious to the new EU tyre labelling regulation, a study by Continental suggests.

According to the research, 70 per cent of drivers have no idea that each set of new tyres now comes complete with a sticker.

Introduced on November 1st 2012 and attached to any tyre produced after July 1st 2012, the regulation rates each product on its fuel efficiency, wet grip and external noise.

Peter Robb, brand manager at Continental, acknowledged: "It's the biggest thing to happen to the industry for quite a while and it seems to be passing a few people by."

However, he acknowledged that many drivers may be unaware of the new EU tyre labels simply because they have not shopped around for new tyres, rather than through sheer ignorance.

Mr Robb continued: "If you're only in the market for new tyres every two years it could be a year-and-a-half before you're exposed to the tyre labelling.

"I think if we did the test in two years' time the awareness level would be quite high."

There has definitely been plenty of positive reaction to the introduction of the new EU tyre labelling regulation.

This is because a label details a tyre's fuel efficiency rating – perfect for motorists looking to reduce their CO2 emissions and the general cost of driving – as well as how well the products work to bring a car to a standstill when braking in wet and slippery conditions.

Finally, a graphic showing the amount of external noise made by the tyre is a handy feature for improving how a vehicle is perceived by pedestrians.

Upon the launch of the regulation across the UK back in November, Michael Welsh, the chief executive of Black Circles, acknowledged: "The basis for this new legislation is effectively to reduce fuel consumption and to improve safety and quality."

Christoph Kalla, head of research and development at chemicals company Lanxess's rubber division, added that the regulation finally gives drivers the opportunity to make each road trip safer through their selection of a perfect set of tyres.

He pointed out: "It's amazing how much money people are prepared to pay for airbags, yet they don't want to spend money on tyres that can shave off up to 18 metres on their braking distance."