Astra team has eyes on speed endurance records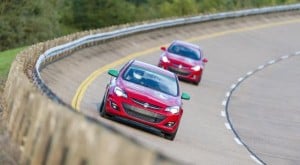 Vauxhall has recently attempted to break a number of world and national speed records in a standard production Astra model.

Now, all the manufacturer is waiting for is confirmation from the Federation Internationale de l'Automobile (FIA) and Motor Sports Association (MSA) that their attempts have been successful.

A 12-man team was assembled to complete the events, including nine motoring journalists and three Vauxhall and Opel staff. On October 5th, the first Vauxhall Astra 2.0 CDTi Hatch reached the starting line at Millbrook Proving Ground's High Speed Bowl.

The event saw the Astra travel for 24 hours, covering 3,000 miles at an average speed of 125mph. Two cars were involved in the challenge, with the drivers completing a total of four hours behind the wheel each.

Even though the cars were run at maximum speed for the duration, only one tyre change was required per car, while no engine oil was consumed.

Furthermore, only 22 minutes downtime was taken, alongside the refuelling processes and driver changes.

The challenge intended to set a new benchmark for 24 hour travel, as records for one, six and 12 hours travel have already been made. In terms of national milestones, time and distance records have lasted since 1992, with the 24 hour effort standing at 100.2mph.

Vauxhall, in collaboration with sister company Opel, has been working on delivering vehicles for the attempt for over a year.

The effort helped to prove how the Astra can deliver reliability and excellent drive quality, even in the most extreme of circumstances.

Simon Hucknall, PR manage for Vauxhall said the Astra was chosen due to its fuel economy and top levels of performance. He also noted that in order to tackle the two-mile constant radius track at such quick speeds, the vehicles needed to be "ultra-reliable, predictable and safe".