Bradford accountant recognised for outstanding contribution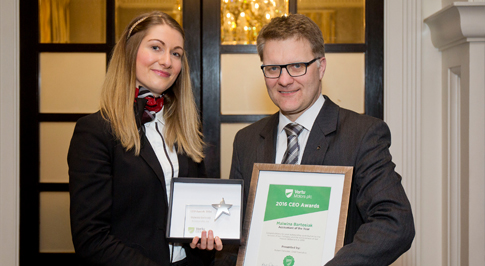 Vertu Motors plc, the UK's fifth largest motor retailer, has rewarded the hard work of a Bradford-based accountant at its annual CEO Awards.
Malwina Bartosiak, who works at Bristol Street Motors Renault Nissan Bradford, was named 'Accountant of the Year' at the motor retailer's annual CEO awards, which this year was held at the luxurious Oulton Hall on the outskirts of Leeds.
Every year, Vertu Motors plc, which owns Bristol Street Motors, Macklin Motors, Farnell Land Rover and Vertu Honda amongst others, honours talented managers from across the Group at its annual dinner, hosted by CEO, Robert Forrester.
The Group currently operates 124 dealerships throughout the UK, covering 22 manufacturers, so competition for awards is fierce, with only the highest performing colleagues recognised.
Presenting Malwina with her award, Robert Forrester, chief executive of Vertu Motors plc said: "Malwina has had a terrific year that started with her taking on the challenging role as accountant at Bradford Renault and Nissan. This has been one of the most demanding roles in this division over recent times yet she sets about her work with an energy, commitment and enthusiasm that has been maintained throughout the year.
"It has also been a personal journey for Malwina as this was a major step up from her previous role and she has risen to the challenge and developed her own skills and leadership techniques whilst also working away from home each week."
Accepting her award, Malwina said: "I have been with Vertu Motors for just over four years and seen first-hand how hard work and commitment is rewarded. I have also seen the high calibre of my colleagues, so to have beaten dozens of other accountants to receive this award really is an honour. It's been a challenging but satisfying year with a lot of hard work, so I'm ecstatic to receive recognition for my efforts."
Michael Sherwin, chief financial officer at Vertu Motors plc, commended Malwina on her win, adding: "Running the accounting function across a multi-site business requires clear policies, reliable systems, but most important of all is great people. Our colleagues deliver support and management information to their local teams, and Malwina is a shining example of how best to achieve this. By constantly displaying strength of character, attitude, energy, drive and talent, she has set a great example to all of her fellow accountants."