Bristol Street Motors Ford Morpeth continues support for music initiative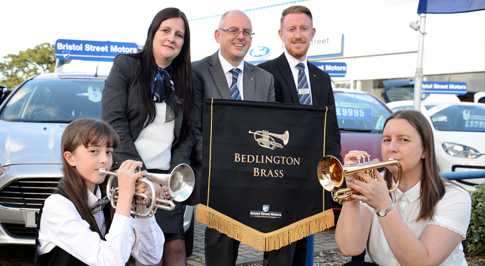 Bristol Street Motors Ford Morpeth has reinforced its support for the Bedlington Brass Initiative with a further year's sponsorship.
The dealership, based on Coopies Lane, is assisting the Bedlington Youth Brass Band and the Community Brass Band.
Several of the band members went along to the dealership to celebrate the support, alongside Bristol Street Motors group operations director, Ian Harrison and sales manager, Jamie Macleod.
The Bedlington Brass Initiative embraces all ages from 8 year olds playing in the Youth band to the Community band which has members across three generations. It works with 10 schools in the Bedlington partnership with more than 300 students taking part in the whole project.
The project is organised by Northumberland County Council's music department, Music Partnership North Northumberland, who provide a wide range of high-quality musical activities for all children and young people, including those in challenging circumstances. This initiative includes whole class instrumental tuition leading to the creation of school based mini bands, music workshops and performances and the creation of the youth and community brass band.
Bristol Street Motors is continuing to support the Bedlington Brass Initiative alongside continued support for the Dunston Silver Band, which Bristol Street Motors have been supporting since 2009.
Claire Richardson, branch manager at Bristol Street Motors Ford Morpeth, said: "Our ongoing commitment to working with the Bedlington Brass initiative clearly demonstrates the importance placed on working with local community organisations.
"Music brings together the generations and we are proud to be supporting both the Youth band and the Community band."
Fiona Johnstone from Music Partnership North - Northumberland said: "The recognition by Bristol Street Motors of the work we are involved in within Bedlington is greatly appreciated and their support will be invaluable in enabling us to deliver 10 youth band sessions and 30 community band sessions throughout the coming year."
by: Laura Thomson