Bristol Street Motors sets wheels in motion for St Oswalds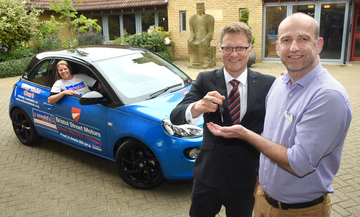 Bristol Street Motors dealerships in the North East are joining forces to raise funds for St Oswald's Hospice.
The company's Vauxhall sites in Hexham, Newcastle and Sunderland have teamed up to donate a brand new five-seater Adam to the hospice, which will be the star prize in the charity's annual raffle.
Proceeds from the raffle, which will be drawn at the hospice's Christmas market in November, will contribute towards the charity's annual £7million fundraising target. Runner-up prizes include a £500 laptop donated by Total Business Group and a £300 holiday voucher from Courtney Airsavers.
This is the fourth year that Bristol Street Motors, which is operated by Vertu Motors plc, has donated a car to St Oswald's Hospice's raffle. The charity, which is celebrating 15 years of its Children's Service this year, will use the money raised to fund its services, which support adults and children with life-limiting illnesses and their families.
In the run up to the Christmas market, St Oswald's Hospice will display the Vauxhall Adam at its own events and drive it to summer fairs and attractions around the region. Raffle tickets are £1 and can be purchased at any of the hospice's shops around the region, the hospice main reception or online at http://www.stoswaldsuk.org/annual-raffle.
Supporters can also call 0191 246 9123 to buy over the phone or make a purchase whenever they spot the branded car at events throughout the summer and autumn.
Robert Forrester, CEO of Vertu Motors, said: "Thanks to the efforts of its amazing staff and many dedicated volunteers, St Oswald's Hospice carries out invaluable work, 365 days a year. Without its existence, hundreds of patients and families would not have the help or support to get through what is an extraordinarily difficult time.
"We are thrilled to continue what is a successful relationship with St Oswald's Hospice, and were more than happy to donate another car to feature as the main prize in its annual raffle. A lucky winner will walk away with a Vauxhall Adam and the Hospice will receive much-needed funds to continue its vital work."
James Ellam, Chief Executive of St Oswald's Hospice, added: "We are extremely grateful for the ongoing support from Vertu Motors and the teams at Bristol Street Motors in the North East. It's very important to raise awareness about the work the charity does and services we provide, as without the backing of local businesses and members of the community, we would not be able to raise the £7million that we need to continue our work.
"Last year, our annual raffle raised £40,000, which directly benefits the adults, young people, children and babies who rely on our service. With the addition of this year's Vauxhall Adam prize, we are hoping to raise another fantastic amount."