Bristol Street Motors Vauxhall Lichfield dealership honoured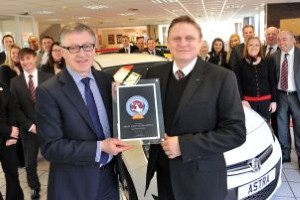 The team at the Bristol Street Motors Vauxhall Lichfield have received a huge boost this week, after the dealership was presented with a customer satisfaction award.

The team at the dealership on Eastern Avenue, in the Staffordshire city, were given the prestigious Vauxhall Customer Excellence Award after being named as one of the 50 top-rated Vauxhall dealerships for 2012.

The Bristol Street Motors team were particularly praised in the award's Purchase Satisfaction and Service Satisfaction categories, where the dealership received the joint highest scores.

The scale of the satisfaction for the team is underlined by the fact that this year's list of top Vauxhall dealerships was compiled after taking the responses of more than 40,000 customers into consideration.

These views were made both after a purchase was completed at the Bristol Street Motors Vauxhall Lichfield dealership, as well as once customers received their first service.

Peter Durham, the operations manager at Vauxhall, was given the honour of presenting the illustrious Vauxhall Customer Excellence Award to Lichfield facility's general manager, Jamie Knaggs.

During the ceremony, Mr Durham was keen to stress: "At Vauxhall, we recognise that Lichfield has gone that extra mile to help our customers and make their purchasing andservicing experiences as positive as possible; the award really is a representation of the hard work that's gone into their consistent standards and all round high performance."

As well as the award, the Bristol Street Motors Vauxhall Lichfield dealership is also going to be presented with a special logo, which will be placed alongside its name on theVauxhall dealer locator portal. Furthermore, a commemorative plaque is going on display at the dealership.

Commenting on the experience, Mr Knaggs said: "We're absolutely delighted to be named as one of the UK's best Vauxhall dealerships for customer service and would like to thank all of our customers for helping us to secure this fantastic award.

"When a customer visits our dealership, they can feel confident that they will be receiving truly dedicated customer service and that our team members will go the extra mile to ensure they are happy."