BSM Darlington SEAT wins national team prize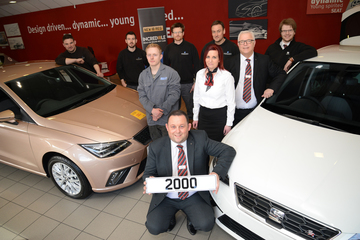 The team at Bristol Street Motors Darlington SEAT is celebrating after being recognised for demonstrating exemplary customer service.
The dealership was one of the top-performing 25 sites in SEAT's national network of retailers, as a result of its high levels of customer service over a 12 month period. Bristol Street Motors Darlington SEAT has previously ranked in the top ten sites for sales.
As one of the most-improved SEAT sites in the brand's International Aftersales Customer Satisfaction (IACS) survey, the Haughton Road-based dealership was also entered into a prize draw and won one of five £2000 rewards.
SEAT presented Bristol Street Motors Darlington SEAT with the £2000 prize, giving the dealership the opportunity to decide how the money should be spent.
Neil Bianchi, general manager at Bristol Street Motors Darlington SEAT said: "Customer service is of paramount importance and we pride ourselves on delivering first-class customer service, as well as building relationships with both new and loyal customers. The IACS survey helps to measure exactly how customers feel and why they return or continue to use a particular site, so scoring a high mark on it is invaluable to us.
"For SEAT to recognise the hard work and effort that the team has put in over the past year is fantastic. I am delighted that we have been presented with one of the £2000 rewards, the team thoroughly deserves it and we will definitely be organising a trip or evening out somewhere."