BSM Shoots and Scores for Brislington Ladies FC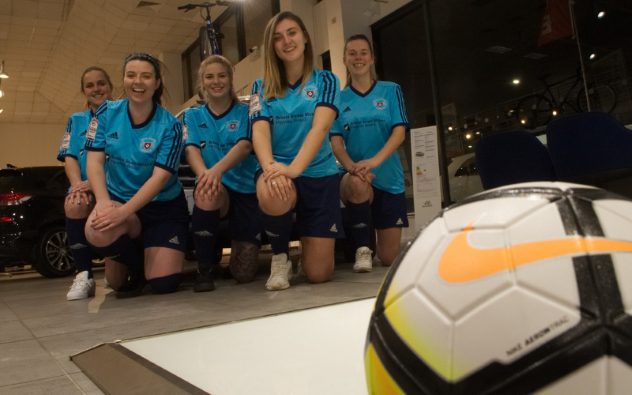 Bristol Street Motors Bristol Hyundai

is supporting to Brislington Ladies FC as part of its community engagement programme.
The dealership has kicked off a two-year sponsorship to support the FA league ladies' team and help maintain its ground. The backing has also provided the team's new away kit.
Brislington Ladies FC was established in 2011, to compliment the successful junior club. The team started in Division 2 of The Somerset County Women's league, and were league champions from U10 to U16. Many of the original players are still with the club today and in 2016, the team was promoted to The FA Premier League.
Recently, Bristol Street Motors agreed to support the first of the PFA Bristol Street Motors Fans' Women Player of the Month Awards, which was presented to Bristol City WFC goalkeeper, Sophie Baggaley. This marks the first time in the PFA's 111-year history, that the players' union has held a monthly award for female footballers.
We are delighted to be supporting them for the next two years
Adrian Wilson, general manager at Bristol Street Motors Bristol Hyundai, said: "Bristol Street Motors is a strong supporter of community causes, an advocate of grass roots football, and now, a supporter of women's football with the PFA sponsorship. The majority of the team joined Brislington LFC in the junior club ten years ago, and have grown with the club into the players we can see today.
"Brislington Ladies have seen a really strong performance this year and I am sure I can speak on behalf of everyone in the dealership, when I say that we are delighted to be supporting them for the next two years."
Sharon Whelan, club secretary at Brislington Football Club, added: "Without Bristol Street Motors and our other sponsors, we would not be able to strive for league promotion, while still covering our everyday costs.
"The team has faced some tough competition this year but has played really well and beaten some tough opposition. With the ongoing support of well-respected businesses like Bristol Street Motors and our local community, who brave the weather to come and watch us play, we can look forward to the games in the coming year."