Car Cultures of the World: United Arab Emirates
Let's clamber aboard the Bristol Street Learjet and whiz off on another exploration of exotic countries and their car cultures. This months stop is the United Arab Emirates; specifically, Dubai. If you'd taken this trip in the 90's, youd have touched down in a ghost town with a couple of dodgy hotels and swirling red sand gradually reclaiming the roads. Fast forward a decade or two, and Dubai has been reborn, like a Stars in their Eyes contestant emerging from sequined doors, wreathed in dry ice. And their tuner scene is insane.
You know a city is mad for cars when the police force's cruiser collection is worth upwards of $5 million. Get caught going 36mph in a 30 in Dubai, and it's perfectly possible that the flashing blue lights in your rear view mirror will be mounted on a Bugatti Veyron. Try outrunning that. Actually, if you're one of Dubai's innumerable tycoon playboys, you probably could have a good shot at outrunning it, as Dubai is home to one of the most densely packed collections of supercars in the world.
Supercars are so common here, in fact, that they are often found abandoned. It' not uncommon to spot a dust-coated Porsche simply ditched out in the desert, or forgotten about in a car park. After Dubai's economic mudslide back in 2009, many of the city's fat cats and hot shots nearly had a heart attack. They jumped ship, abandoning their gleaming Lambos and Astons to the desert sands. Since their bankrupt billionaires hightailed it over the dunes, the deserted supercars have become a well-documented icon of the world in recession.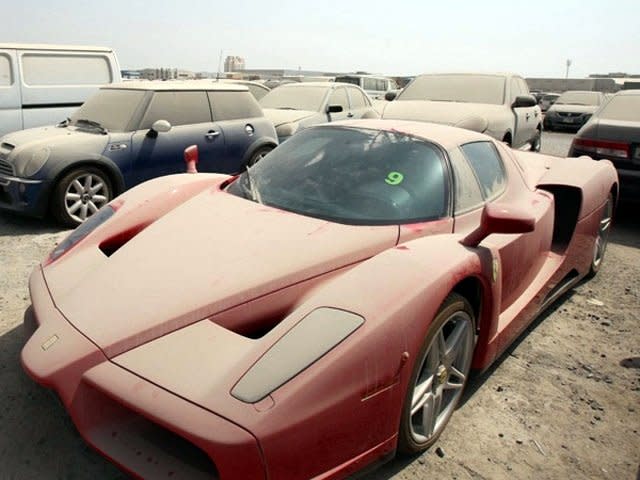 Goodnight, sweet prince
The popularity of custom cars in Dubai, and in the UAE in general, is enabled by several factors. For one, fuel is dirt cheap. A litre of petrol will cost you the princely sum of around 34 pence. Additionally, the expanses of open road are great for opening up a fast car. Throwing more fuel on the fire is the fact that having a supercar purring in the driveway is an obvious indicator to the world that you are a person of interest (regardless of whether or not you are in fact as dull as an anvil).
Custom cars are status symbols, and in Dubai the competition is intense. Around 2.2 million people inhabit the city, of which some 26,000 are millionaires (or billionaires). This means one in every hundred people in Dubai is sitting pretty on a fortune, and, essentially, being filthy rich isn't that big of a deal. So, the rich and infamous have to get creative with their cars, in a game of constant one-upmanship.
Chop shops and car modders are bountiful in the city, and are well adjusted to handling ever more bizarre briefs. Want leopard print seats? They'll sort you out. Stitched falcon motifs on the seats? Sure. Neon-coloured interiors? Consider it done. Middle Eastern style dictates loud colours and plenty of, for lack of a better word, bling. These high-end customisations are primarily done by the dealership mechanic at the time of purchase. Going to accessory shops after buying your car is a risk, as the skill of the mechanics there is hit and miss, and best avoided. After spending several hundred thousand on a Bugatti Chiron, it'd be a crying shame if the dragon you requested to be sewn into the headrests ended up looking more like a bloated Pikachu.
Automotive events take place regularly all over the city, such as the Dubai Motor Show, the Emirates Classic Car Festival, and the Dubai Motor Festival, which is held in the name of the good old Crown Prince of Dubai, His Highness Sheikh Hamdan bin Mohammed Al Maktoum. The festival draws crowds from around the world, all chomping at the bit to stand for hours in 45 degree heat and watch outrageously priced cars tear past at 200 miles an hour. The festival features parades, drifting contests, car-themed light shows, and trouping columns of F1 cars.
The Dubai Autodrome is a Mecca for petrol heads, with the opportunity for punters to leap behind the wheel of a car of their choosing, anything from an Audi to a McLaren, and whiz around the purpose-built racetrack. The Autodrome is the beating heart of motoring in Dubai, and regularly hosts events throughout the year, even hosting track days, during which people can race their own cars around the course.
If you're an oil tycoon or a billionaire media mogul, Dubai is the holy land. If not, don't despair, there's still a chance for you to get behind the wheel of that Gallardo; you can apply to be a valet at the Burj Khalifa.