Citroen hosts Paris showcase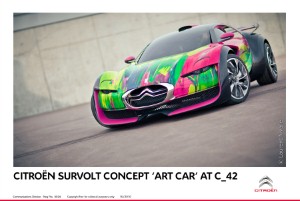 Posted by Craig Salter

Citroen is displaying a range of new models at its C_42 international showcase.

Located at the company's landmark dealership on the Champs-Elysees in Paris, the event features a new Art Car version of the Citroen Survolt, designed by Francoise Nielly, as well as a personalised Citroen DS3 by Flavio Melchiorre.

The showcase ties in with the Paris Motor Show, which runs until the end of October and features a range of Citroen vehicles, such as the new C4, C-ZERO, DS3 Racing and DS4.

A custom-made LED display welcomes visitors to the dealership, where models are arranged over several storeys.

Citroen states: "The exhibition opens with DS4, the second model in Citroen's distinctive DS line. Guests can then experience the latest version of the C5 Tourer, the New C4, the stylish, hot-blooded special-edition DS3 Racing and the C-ZERO full-electric city car."

The showcase is the 14th of its kind.

According to the company, Flavio Melchiorre's DS3 will be launched in 2011 alongside other DS3 personalisation options.

Citroen's eTouch Emergency & Assistance System was awarded the Euro NCAP Advanced safety accolade at the Paris Motor Show earlier this month.