Citroen to launch DS3 WRC in Sweden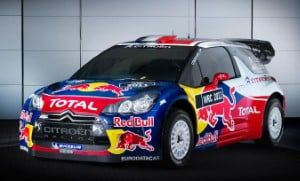 The Citroen Total World Rally Team is set to compete in the FIA Manufacturers' World Title in 2011 with a brand new model.

According to Citroen Racing, it is poised to debut its third World Rally car in the form of the Citroen DS3 WRC, which will compete in the Swedish Rally between February 10th and 13th.

The team notes that its predecessors - the Xsara and the C4 - have won four titles each since they first joined the competition.

Citroen stated that the DS3 WRC is more compact than the C4, while it has been enhanced with the addition of a 1.6-litre turbocharged direct injection four-cylinder engine, designed in-house by Citroen Racing.

It includes a four-wheel drive transmission and a manually controlled sequential gearbox.

Olivier Quesnel, Citroen racing director, commented: "Citroen Racing is a proven winning machine, and there's no reason why it should go on the blink from one day to the next.

"I have every confidence in the team's work."

According to the manufacturer, the Citroen DS3 meets the demands of "even the most demanding connoisseur".