Clio Renaultsport 200 Cup named the most fun used car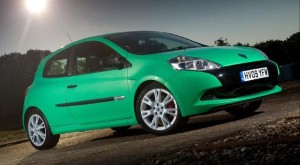 What Car? has named the Clio Renaultsport 200 Cup the most fun used car in its recent awards announcement.

The UK's biggest guide for car buying stated that the model is one of the best ever in its class, and has seen Renault continue to set the bar for rapid small hatchbacks.

Chas Hallett, editor-in-chief at What Car? said: "We awarded the Renault Clio Renaultsport 200 Cup its used fun car award as it is simply one of the best hot hatchbacks ever made and what's more, it's a total bargain with prices averaging £7,250."

With a maximum speed of 141mph and a capable of reaching 60mph from standing in just 6.9 seconds, it's not difficult to see why people love the compact speed demon.

The award is a welcome recognition of the Renaultsport's abilities and is expected to encourage even more sales of the popular vehicle.

What Car? pointed towards fuel economy of 34.4 mpg, low repair costs and a five-star NCAP safety rating as other reasons for praise.