Co-op Live in Pictures: Here's What the New Arena Could Look Like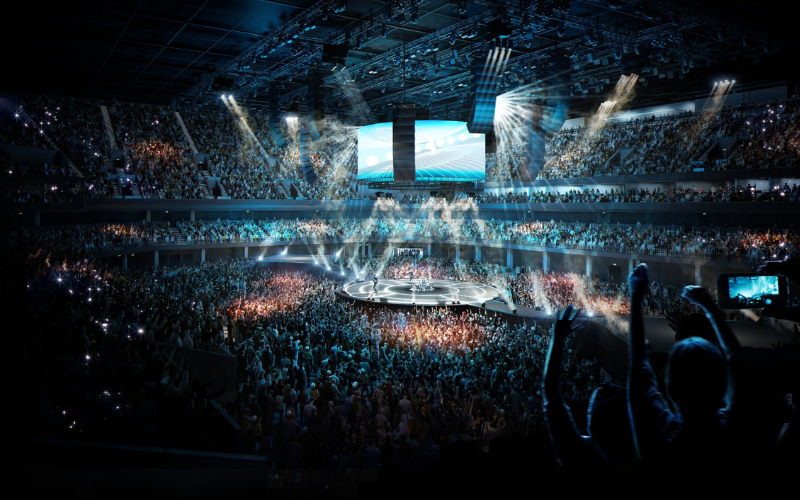 With Manchester's newest arena set to open its doors to music fans in 2023, we take an early look into what visitors could be expecting from the all-new, fully electric arena.
Co-op Live is a brand-new initiative from Oak View Group (whose portfolio includes The Climate Pledge Arena in Seattle and The Moody Center in Austin, Texas) and City Football Group, set to open in Manchester next year with Co-op supermarket as the inaugural sponsor.
Though it's not just any arena, as it's set to be the UK's biggest and first fully electric arena, with a capacity of 23,500 people.
The £365m arena is currently in the development stage and offers a uniquely designed indoor arena featuring a smart 'bowl' design and low ceiling to bring visitors closer than ever to the entertainment experience.
From top-of-the-range acoustics to cutting-edge visual effects, fans will be able to enjoy the show like never before, in an all-new venue that not only offers the latest in innovation, but also sustainability.
From 10,500m of solar roof panels which will generate electricity to power the arena, to toilets that flush with rainwater and recycled construction materials, Co-op Live will be leading the way for sustainable entertainment venues. Are you excited?
Here's what the arena could look like:
Inside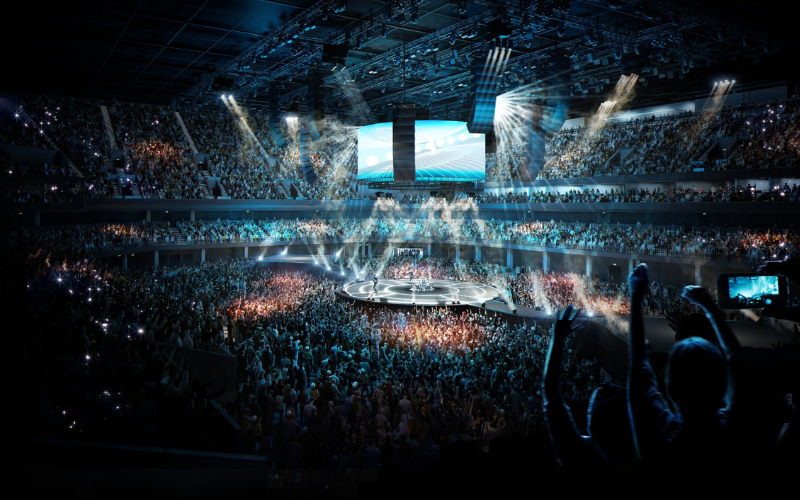 As well as having the largest capacity in the UK, the arena has been designed with the fan's experience in mind. Co-op Live's smart bowl design means that fans will have unrivalled views of the stage.
Every element of the bowl has been acoustically treated to ensure sublime sound quality. With 120 major live events on offer, there will be something for everyone at the Co-op Live arena, which is set to host some of the UK's biggest artists from the music industry.
Elsewhere in the building, there will be 28 suites, 12 lounges and 2,000 premium seats for guests to come together and enjoy the night of a lifetime.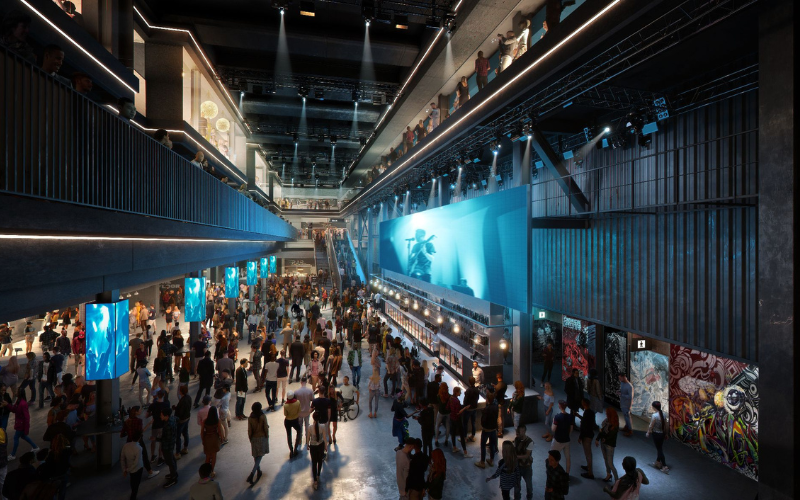 You will also be able to talk a walk through 'The Street', aptly named by those of us at Bristol Street Motors as an official partner of the arena. Here, you'll be able to enjoy a variety of locally produced food and drink.
Occasionally, you may also spot some of our fantastic vehicles on display from our local Bristol Street Motors dealerships, which we encourage you to explore- you might just find your new car!
The Street is set to be a bustling welcoming hub for the arena, where you can come together with friends and family before or after shows, sharing the excitement and making memories.
There's also an impressive 32 bars, restaurants, and lounges in the arena, meaning that you'll be spoiled for choice during your visit.
Outside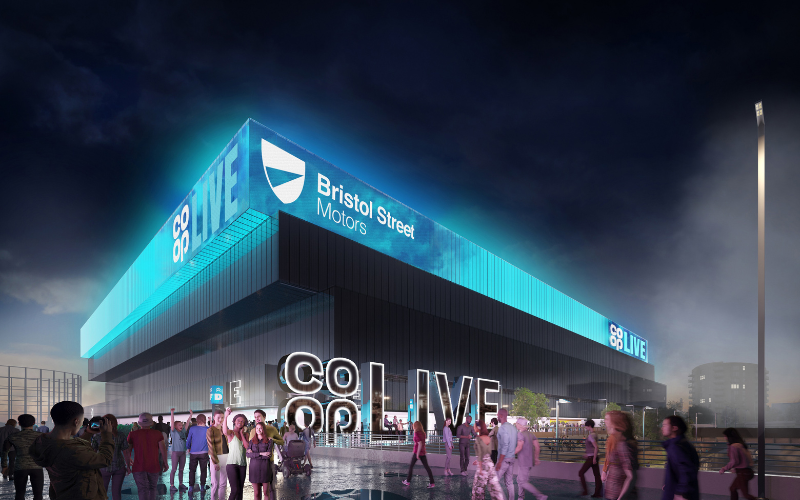 On your approach to the arena, you'll notice its impressive size and distinctive shape, with the live LED board surrounding the arena displaying the logos of key partners- keep an eye out for the Bristol Street Motors shield!
The external plaza creates plenty of space for crowds to enter and exit the building, and you might want to stop to take a commemorative picture next to the landmark Co-op Live sign.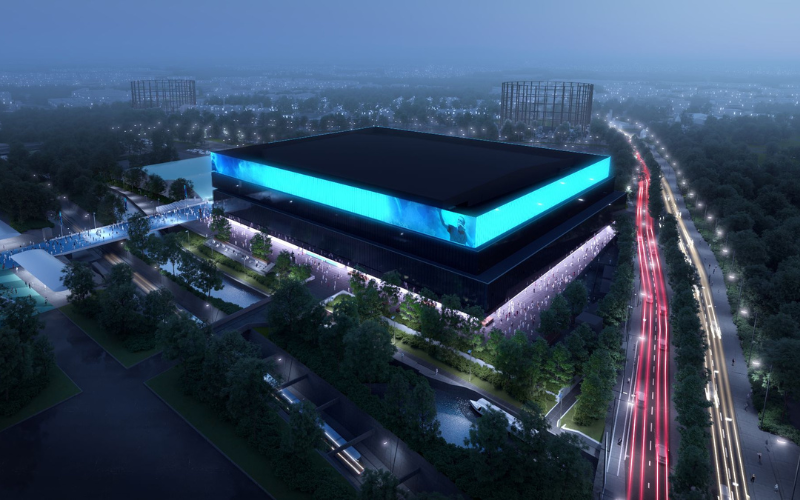 From above, you can see just how large the new arena will be, situated on the Etihad Campus, east of Manchester City Centre. This will make the arena super easy to get to, with improved commuter links on public transport, while it will also be easily reachable on foot from the city centre.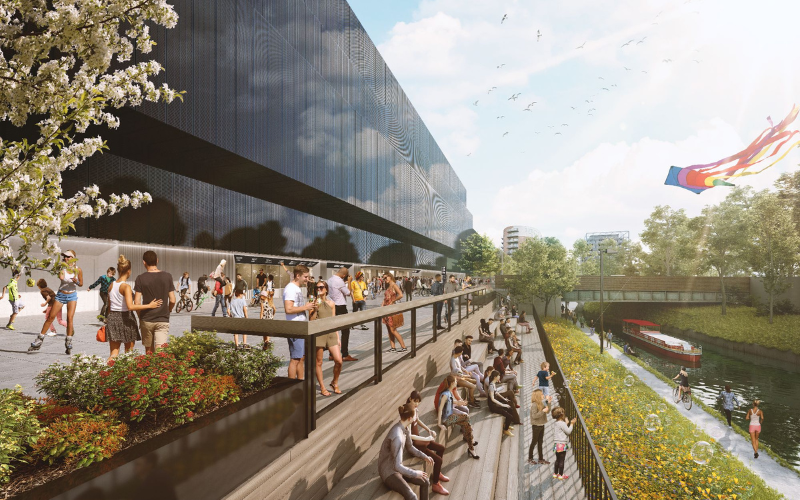 Around the outside of the arena, there will be 85 trees planted to create a biodiversity ring, which will help to harvest rainwater for some of the arena's facilities. There's also plenty of outdoor seating where guests can relax during the day before or after shows and enjoy views of the river.
So, there you have it- your first look at what the UK's most highly anticipated arena could look like when it opens its doors next year in 2023.
Watch the video below on Co-op Live's Instagram to learn more about the site: