CUPRA Ateca Refreshed High-Performance SUV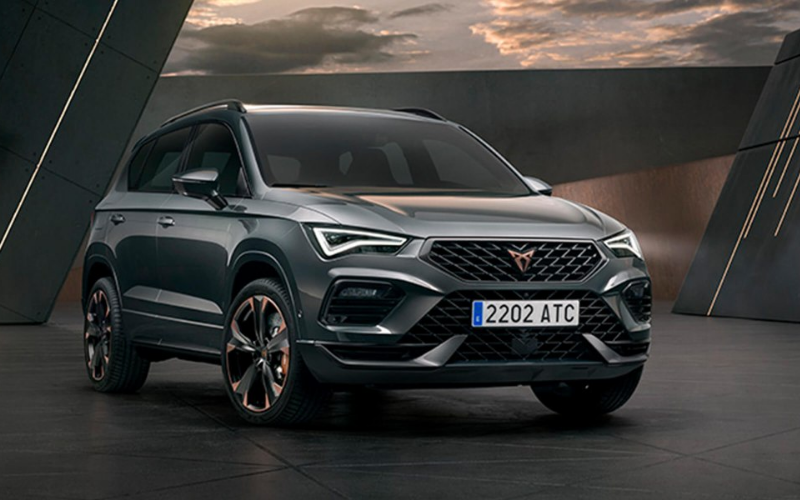 The CUPRA Ateca continues to be the ultimate dynamic performance compact SUV as it has undergone enhancements and upgrades. The versatile vehicle offers customers the practicality of an SUV accompanied by the driveability and handling of a traditional high-performance car.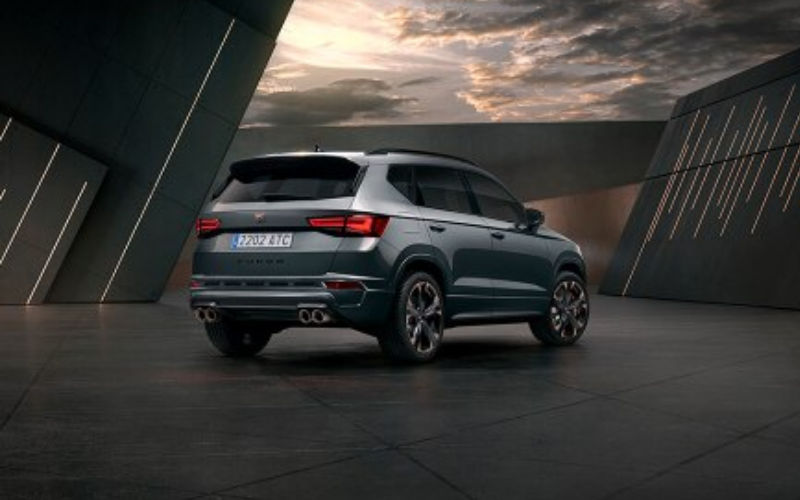 Exterior
Amplifying its bold character, the CUPRA has always offered a striking exterior and the new SUV updates do exactly this. The exterior design has been updated to provide an increasingly agile and capable look, with the front featuring a new bumper design, along with new full LED headlights.
The CUPRA logo is showcased by the upper honeycomb grille with a dark chrome finish and the lower grille features a dark aluminium diffuser. The rear offers full LED lamps with dynamic indicators, meaning other drivers have a clear view of any manoeuvre you intend on making, as well as adding elegance to the rear design.
The CUPRA Ateca is available in six different exterior paint colours: Energy Blue, Dark Camouflage, Velvet Red, Rhodium Grey, Reflex Silver and Nevada White.
Interior
Illuminated treadplates welcome you into the cabin as the CUPRA logo is projected onto the floor - combining elements of luxury and sophistication.
As standard, the front seat occupants receive a bucket seat and the new micro-suede CUPRA steering wheel is home to the engine start button and the selectable driver profile button. All of the key vehicle information is shown in the Digital Cockpit in high-resolution and the pedals are finished in aluminium.
Copper and Dark Aluminium details run throughout the interior of the vehicle and conduct a sense of performance.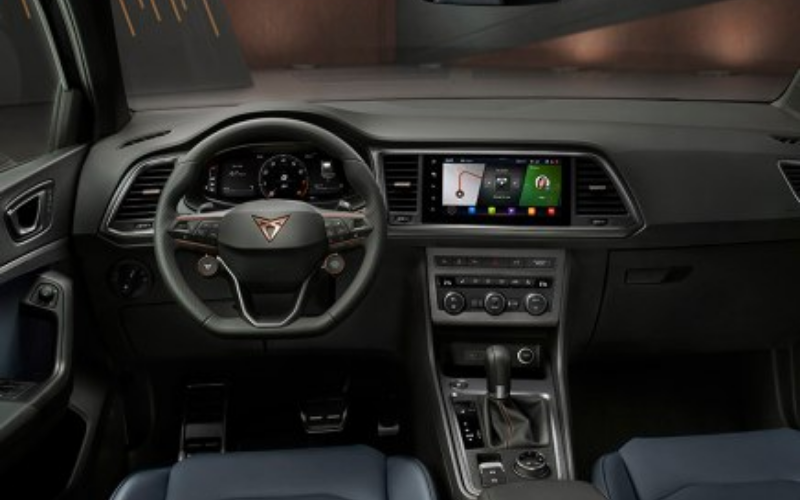 Connectivity
In an increasingly digital world, the Ateca's Digital Cockpit and infotainment technology ensure you will stay connected.
The CUPRA's centre houses a Digital Cockpit, which combines a high-resolution full-colour, fully customisable digital driver binnacle and a colour infotainment touchscreen system, including, online navigation and natural voice control to simplify user interaction.
With full link system, you can seamlessly link your mobile device and access your digital life anywhere at any time. This includes being able to receive directions via apple maps, making calls with access to your full contacts list and being able to listen to your favourite playlists whilst on the road. The full link can be easily accessed via the infotainment system or the multifunction steering wheel.
The introduction of the SEAT Connect app will allow users to remotely access driving data of previous journeys and remaining range, lock and unlock car doors, set up speed alerts to be warned if someone using your vehicle is driving too fast, be alerted if your vehicle has been stolen. Even more, we have all had that dreaded feeling of not being able to locate our car within a car park – not anymore with the SEAT Connect app, which allows you to activate the horn and turn signals to find your car more easily in a crowded car park.
Safety
The CUPRA Ateca may be a performance SUV, but it also provides top-notch safety, offering a range of new advanced driver assistance systems!
The CUPRA Ateca has been enhanced with the addition of Pre-Crash Assist, Predictive Adaptive Cruise Control, Travel Assist, Emergency Assist and Side and Exit Assist, all to ensure that the vehicle sees, hears and reacts to more of its surroundings and occupants are protected at all times.
Exit Assist now makes manoeuvring from car parks easier than ever before! When exiting a parking space, the vehicle will give an audible and visual warning if it detects oncoming traffic, cyclists or pedestrians. If these warnings are missed or the object gets closer, the vehicle will initiate an automatic braking to minimise the risk of a collision.
The Side Assist feature can detect vehicles up to 70 metres in adjoining lanes, with a visual alert via the LED within the side mirror – pretty hard to miss!