Drivers 'should follow top tips during snow'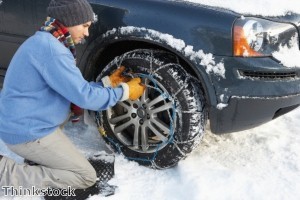 Motorists should exercise added caution on the road this week as snow falls across much of the UK, it has been stated.

According to Green Flag, there are a number of simple steps drivers can take to ensure they are fully prepared for the wintry weather.

Primarily, the organisation advises people to avoid travelling where possible due to the icy conditions.

Its top tips for those who have to take to the road include using defroster for better windscreen visibility, driving slowly, keeping a good distance from other vehicles and braking gently to avoid skidding.

Neil Wilson, head of rescue operations at Green Flag, added: "Make sure you allow extra time for your journey, take your time on the roads and ensure you have warm clothing and a mobile phone in case you breakdown or get stuck in the snow."

Green Flag also advises motorists to be particularly cautious of black ice, which can be invisible to the eye but can cause accidents and collisions.

According to the Met Offce, last week (November 28th) saw both Wales and Northern Ireland reach the coldest November temperatures since records began – minus 18 and minus 9.5 degrees Celsius respectively.