Driving With Dogs Can Cause £1,816 in Car Damage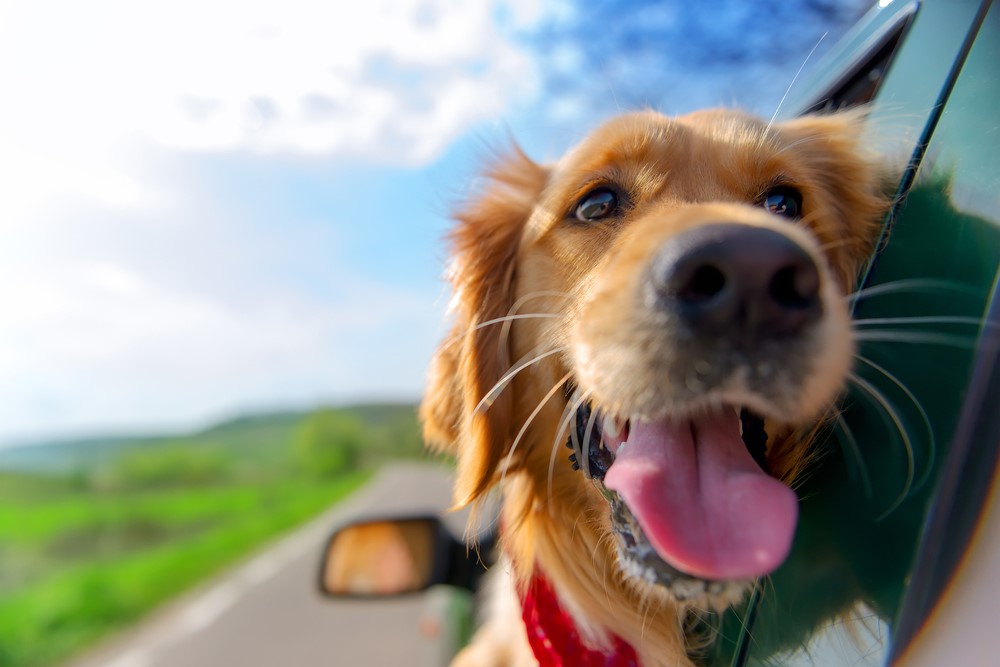 According to data from 2020/21, there are an estimated 12.5 million pet dogs in the UK, following a surge in pet ownership during lockdown.
With a growing number of Brits now travelling with a pet in tow, our cars could be at risk if drivers don't take the right precautions to protect their vehicles from damage caused by pets.
So just how much can regularly travelling with a dog potentially cost you? We reveal all and offer some expert tips on how you can keep your pet safe and happy during your next road trip.
Your dogs can cost you £1,816 in car repairs!
While we do love them - the damage our furry friends can cause to our vehicles can significantly impact its resale value. According to our calculations, the total cost of repairing pet-related damage could be as much as £1,816 over your dog's lifetime!
That could seriously eat into any profit you make when you come to sell your car.
Not only that but if your pet distracts you, you could face a fine of up to £5,000 for careless driving! Should you be involved in an accident while your dog is in the car and not properly restrained, you could even invalidate your insurance.
Exterior scratches can cost £80 per scratch to repair
If you have an excitable dog who jumps up the side of your car in anticipation of getting in it, you may find some light scratching to your car's paintwork. Dogs' claws can be sharp, so this kind of damage isn't unusual on pet owners' cars.
The exterior is the first thing potential buyers will see and scratches could make your car less appealing. Repairing light scratches will cost on average £80 per scratch. If you have multiple to repair, you could be paying out as much as £400 to have the full panel resprayed.
To avoid exterior scratches, keep your dog on a short lead until you've opened the car door, so you can prevent them from jumping up the paintwork.
Torn or scratched upholstery can cost up to £90 to repair
Of course, once they are in the car, there's a good chance your pets' claws will cause damage to the upholstery on your car seats. This is especially common if you don't restrain your dog whilst they're in the car, as they'll often dig their claws in to steady themselves as the car moves.
Repairing scratched or ripped upholstery costs between £80 and £90 on average, although this does vary depending on the material and the nature of the repair.
Using a pet seatbelt, carrier or cage, or putting your pet in the boot with a dog guard in place, will stop them from slipping and reduce the risk of torn or scratched upholstery.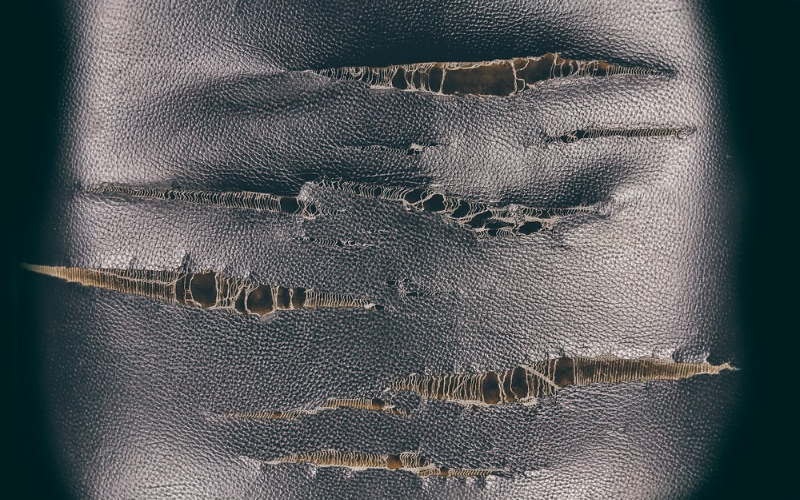 Little accidents can cost £325 PER SEAT to recover
If your pet is a nervous traveller or perhaps they're not fully toilet trained, they may have an accident while you drive. From urine to vomit caused by in-car nausea, it can be a nightmare to clean up, especially if you can't clean it right away.
For stained upholstery that is beyond repair, recovering your seats may be the only option. On average, this costs around £325 per seat, based on reupholstering using fabric. It costs even more for leather upholstery (although leather is less prone to staining).
A simple and cost-effective preventative measure is to invest in removable car seat covers, which will protect from this type of damage and make any accidents easier to clean.
Nibbles on your car's interior can total over £416
Pets and chewing go hand-in-hand. While most of the time it is confined to their own toys, they can wreak havoc if let loose on your car's interior. From chew marks on your steering wheel to nibbles on a seatbelt, much of the damage can be done while you're driving and unaware.
Gear knobs cost £55 to replace, while a steering wheel repair will cost you £80. If the damage goes further than a slight tear, it costs around £130 to have your steering wheel fully recovered.
If your pup has nibbled through one of your car's seat belts or chewed the buckle, expect to pay around £151 for a repair. Even a small build-up of sand and dirt within the seat belt buckle can make it stop working.
Ensuring your dog is safely restrained in the car should give them less opportunity to chew the things they shouldn't while travelling!
A buildup of dirt and pet hair will cost you a minimum of £20 for replacement car mats
Ferrying your pets around could lead to a build-up of dog hair in your car, which can cling to soft furnishings and get in the difficult-to-clean nooks and crannies. Likewise, a muddy walk or beach trip will likely bring unwanted mud and sand into your car.
If dirt is left to build up, it may be easier to replace your car mats rather than attempt to clean them. A basic set of car mats can be picked up for around £20, but it often costs more for a better quality set.
Should your car's carpets become irreparable, it could set you back hundreds of pounds to replace them. Luckily, regular cleaning and valets should prevent dirt from building up and causing issues.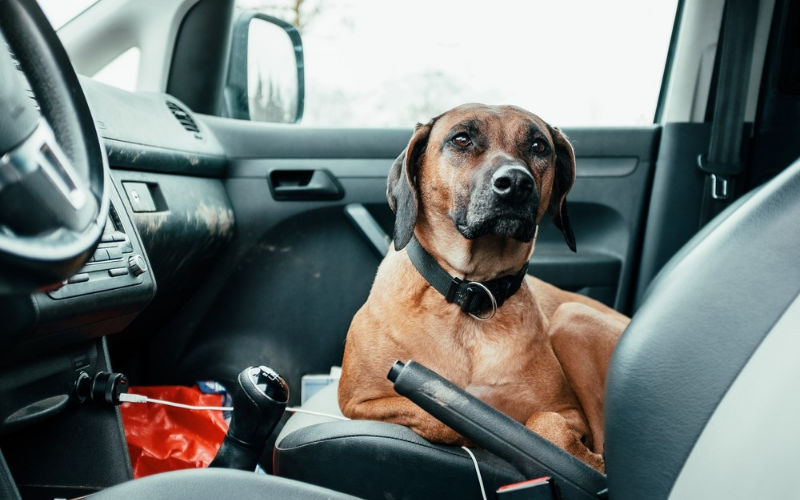 Spending just £116 can prevent £1,816 worth of damage
Now we know the extent of the damage our pets can do, what precautions can we take to protect our vehicle's interiors? The good news is that by spending less than a tenth of that (£116.50), you can prevent more costly damage further down the line:
Your pet travel shopping list:
- Front and rear seat covers, £40
Perfect for protecting your car's upholstery from dirt, hair and accidents.
- Pet seat belt, £5
An essential for safely restraining your pet, making skidding across the seats less likely.
Alternatives include a pet carrier (£15), dog cage (£40) or dog guard (£20).
- Dog drying coat - £15
Ideal for after rainy walks, a handy dog drying coat will absorb any water before your wet dog can shake all over your upholstery.
- Regular valets - £56.50
A full interior valet will help keep your car free of hair and dirt and costs £56.50 on average. An in and out clean, priced at £32.50, is a cheaper option for ongoing maintenance of your vehicle.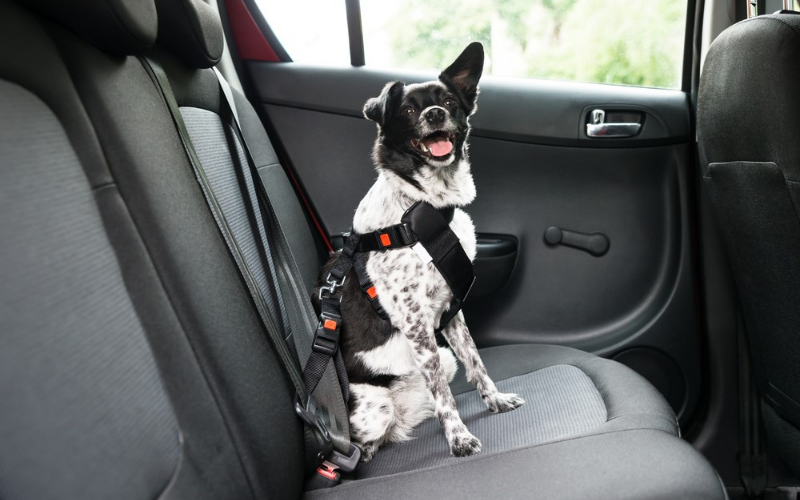 Pet behaviourist reveals the signs that your dog has travel anxiety
One of the best ways to prevent your pet from damaging your car is to reduce their anxiety.
For many dogs, being in the car is an unfamiliar experience, which can cause travel anxiety for some. To help owners spot the signs, Sarah-Jane White, Animal Behaviourist at Ruffle Snuffle explains what to look out for:
"One of the most common signs of travel-related distress in pets is panting. Panting is a normal behaviour for dogs, but it can be a sign of stress or anxiety in some cases. If your dog is panting excessively, it's important to take a break and give them a chance to calm down."
5 common signs of travel-related distress in pets:
- Panting: A normal behaviour for dogs, but can be a sign of stress or anxiety if in excess.
- Whining: A common sign of travel-related distress in pets who are not happy.
- Barking: Non-stop barking is your dog's way of saying I'm worried.
- Pacing: Your dog will walk back and forward in their crate or car.
- Trying to escape from the vehicle: Your dog will dig at the seat, door handles and try to climb up windows.
"Previous journeys that have resulted in pain or an unpleasant experience for the dog can heighten a pet's travel anxiety. The common triggers are a trip to the vets or the groomers.
Try to avoid these trigger factors by taking your pet for shorter journeys in the car where they get to go and play at the destination."
How to familiarise your dog with car travel, according to Blue Cross
If you're heading off on a road trip, Bristol Street Motors asked Blue Cross to share their recommendations for making your dog familiar with the car before you head off: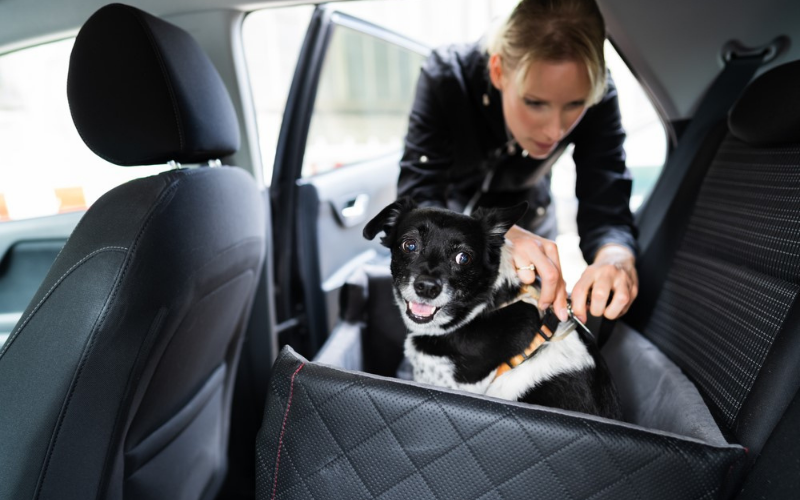 Step-by-step: How to introduce your dog to the car
1. Start by walking your dog by the car.
Start with the engine off before switching it on. Don't walk around the back of the car to avoid any fumes. Reward your dog for staying calm with treats.
2. Once comfortable, let them sit in the car with the engine off.
Remember to reward their calm behaviour with treats.
3. Take a short journey once your dog is comfortable with being in the car.
Your first journey should be no more than a 15-minute drive around the block.
4. Slowly build up your journey time
Gradually introduce longer journeys over time.
By taking the right precautions, you can protect your car from damage and keep your dog safe and happy wherever the road takes you. Discover a range of pet-friendly new cars and affordable used cars at Bristol Street Motors.
Methodology
We calculated the total value of damage caused by pets by using the average costs for common pet-related repairs. The total figure of £1,816 was based on:
- Replacing car mats (£20)
- Reupholstering four chairs in fabric (£325 each)
- Repairing scratched or ripped upholstery e.g., armrests (£80)
- Replacing a gear knob (£55)
- Recovering a steering wheel (£130)
- Replacing a seat belt (£151.47)
- Repairing a light exterior scratch (£80)
Average selling prices were also used to calculate the total cost of items that can prevent pet-related damage.