Electric Vehicle Accreditation For Bristol Street Motors Nissan Bradford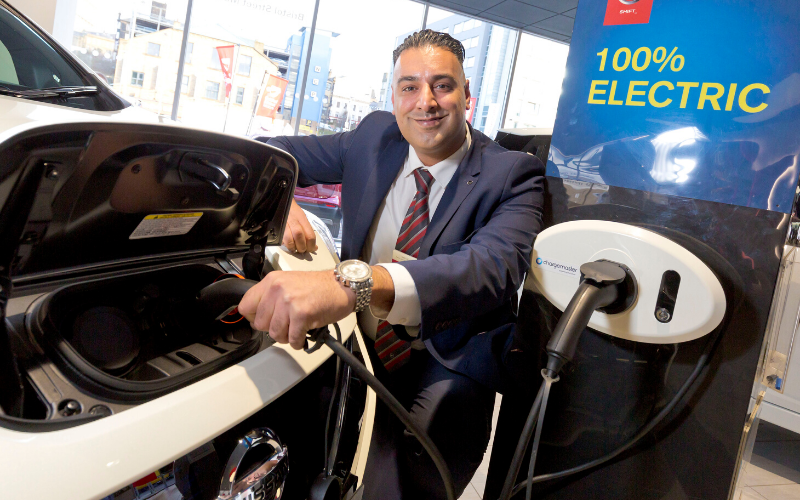 Bristol Street Motors Nissan Bradford has demonstrated its knowledge and expertise in the electric vehicle market to gain Electric Vehicle Approved Status (EVA).
The scheme has been created by the National Franchised Dealers Association (NFDA) and is endorsed by the Government's Office for Low Emission Vehicles (OLEV) and the Energy Saving Trust (EST). The goal of the scheme is to enhance dealerships' understanding of electric vehicles (EV) and ensure customers receive the best advice when buying an electric vehicle.
To gain the accreditation, colleagues have undertaken intensive training. All colleagues have enrolled onto an EV awareness training course, which is tailored to their role within the business. They must also show a solid understanding of all electric and hybrid model variants.
After sales and technical colleagues have also received comprehensive training, with the latter undergoing official EV maintenance and repair training.
Areas colleagues need to demonstrate their knowledge in include:
How to find a public charging point
Who to contact to have a home charger installed?
How to charge an EV
Driving modes and their impacts
Realistic electric driving range and fuel consumption for plug-in hybrid electric vehicles (PHEV)
EV features and their impacts on performance
How the onboard battery systems work
How best to maintain an EV and its battery?
Guidance on servicing and maintenance of an EV
Nasir Ali, sales executive at Bristol Street Motors Nissan Bradford, who is the on-site EV ambassador, said: "We are very proud to achieve this important accreditation.
"The demand for electric vehicles is growing, and the technology is different from a petrol or diesel car and customers are often uncertain as to what is the best option for them. The Government's 'Road to Zero' strategy aims to phase out new petrol and diesel cars by 2040. This scheme makes sure that dealerships are prepared for the EV era and equipped with the right knowledge to assist customers.
"Customers can be re-assured that at Bristol Street Motors Nissan Bradford they will receive the very best advice and support when buying an electric vehicle."
Sue Robinson, NFDA Director, said: "Congratulations to Bristol Street Motors Nissan Bradford on becoming leaders in the electric vehicle field.
"The long-term goal is to gain EVA membership across all EV selling retailers and to build trust between them and their customers. The EVA accreditation will give consumers the confidence that they are dealing with electric vehicle experts."