Fiat 500 named City Car of the Year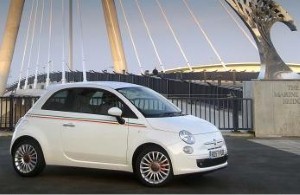 The Fiat 500 has once again taken the City Car of the Year accolade at the 2011 BusinessCar Awards.

Readers of BusinessCar were particularly impressed with the style, running costs and residual value of the model, as well as its range of three trim levels - Pop, Sport and Lounge.

The car won the award for the third consecutive year and is now entering its fourth year on sale in the UK.

It is available with a choice of ultra-low emissions Euro 5 engines, including 0.9-litre, 1.2-litre, 1.4-litre and a 1.3-litre diesel.

Andrew Humberstone, managing director for Fiat in the UK and Ireland, said the Fiat 500 continues to sell well to both private and business customers.

Mr Humberstone said the model is "the perfect city car for the corporate market, something BusinessCar readers obviously echo in voting the 500 City Car of the Year".

"We will never tire of receiving awards for this remarkable car," he added.

A road test of the Fiat 500 conducted by Honest John recently found that after 34 months of use, the car had not developed a single fault.