IAM offers tips for National Drive It Day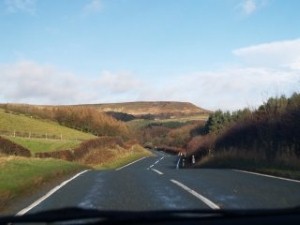 With National Drive It Day coming up this weekend, many motorists will be using it as an excuse to take out their vehicle for a recreational jaunt on some of Britain's best driving settings.

Whether taking on the bends of Snake Pass in the Peak District or journeying past Antony Gormley's famous Angel of the North near Gateshead, it is important to stay safe on the road.

The Institute of Advanced Motorists (IAM) has offered some tips Peter Rodger, the country's top advanced driver, to those heading out on the road for National Drive It Day.

He recommends that motorists always stop within the distance that is visibly clear on their side of the road, which will require significant reducing speed when approaching bends in the road. They should only accelerate again once they have clear road ahead of them.

Many vulnerable road users take to the countryside, particularly on weekends. So it is important to keep an eye open for cyclists and horses and remember to give them ample space when passing.

As country lanes are very windy, drivers should keep the line of hedges ahead of them as a guide for which direction the road will go. This will ensure they are prepared for what is ahead.

When passing by houses or buildings, motorists should slow down as there is a greater likelihood of people being around. Also keep a look out for mud on the road, as this can be an indicator of farm vehicles or animals. They may suddenly emerge from field entrances and may not be clearly visible.

Motorists are much more likely to come across a small animal when driving on country lanes. Although there may be a temptation to swerve out of the way, this should be avoided. A dead rabbit or slightly damaged car is better than serious loss of control or an accident.

"Driving on rural roads requires different skills than driving on urban roads. The unexpected hazards, twisty roads and high speed limits make rural roads tricky, so take extra care and adjust your speed to match how far down the road you can see. A skilful drive on a country road can be an especially enjoyable one - it's worth the effort," said Mr Rodger.