Introducing the new Cupra Ateca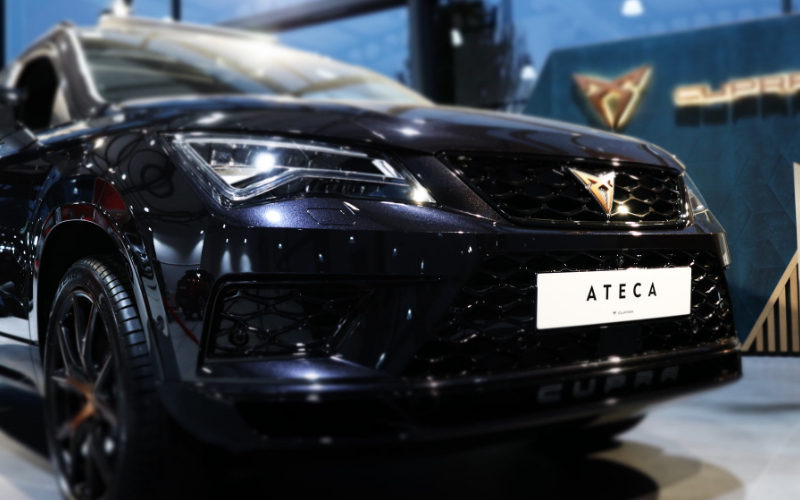 Introducing the new Cupra Ateca
With its rare combination of performance and style, this SUV undoubtedly has the heart of a sports car.
There's more to this car than the 300hp engine, four-wheel-system, distinctive body styling and a badge that resembles a tribal tattoo. Read on to find out why everyone's talking about the new CUPRA...


What is the CUPRA?
The name CUPRA is short for 'Cup Racing'... and is a shout out to their successful involvement in motor sport. In a nutshell, they're the high-performance, athletic versions of SEAT models.
Along with its excellent driving position and user-friendly dashboard, you have the option (from mid-2019) to add bucket seats which hold you nicely during twists and turns!
In terms of tech, a 10-inch LCD touchscreen and gadgets galore like a wireless phone charger, sat-nav, Apple CarPlay and Android Auto as standard. Very nice.
There is lots of room inside for the taller passengers and the boot space can comfortably fit a week's worth of holiday luggage for a family of four in!
The Seat Ateca scored 5 stars on Euro NCAP which bodes well for the Cupra as it is based on Seat's version.
The Cupra prides itself on giving the driver the best experience and even has a button with 6 modes including comfort, sport, individual, off road, snow and exclusive CUPRA mode!


Things we love about the CUPRA
The full LED headlights come with automatic beam adjustment as standard. Available in a choice of six colours - Energy Blue, Rhodium Grey, Black Magic, Nevada White, Velvet Red and Reflect Silver.
Internal materials are of an exceptional standard, and finished with matching copper stitching on the leather steering wheel and gearknob. Speaking of copper... have you seen the copper alloys you can get on this car!? Absolutely stunning!
Overall, the new Cupra Ateca has a lot to offer for an SUV in its price range and is certainly very impressive!
For more information, click here