Is the Nissan 370Z Roadster a good alternative to the Audi TT?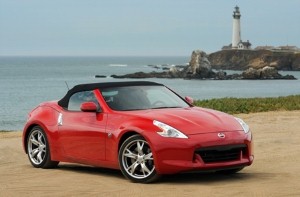 The Nissan 370Z Roadster is "a quick car in the classic vein", it has been stated.

According to a review published on Motors.co.uk, the model is well styled, allowing it to achieve its own identity.

The 370Z replaces the 350Z and while similarities are apparent, the reviewer notes that the new model is more aggressive and has a larger engine.

It offers good handling, responsive braking and satisfying throttle, as well as 326bhp engine output for a "meaty" driving experience, the writer commented.

Awarding the Nissan 370Z Roadster a four-star rating, the website stated: "Should you buy one? For what you get, it's a bargain. If you want one, it'll be a simply fantastic thing to own."

It adds that when assessing bhp per pound, the 370Z is better value that the Audi TT and the Porsche Boxster.

The car can reach 60mph in 5.8 seconds, offers 25.9mpg economy and CO2 emissions of around 250 g/km.

Writing in the Daily Telegraph, Chris Knapman last year said the Nissan 370Z could be "the perfect way to make the most of the summer solstice".