Local man starts a fuel-filled year with car raffle win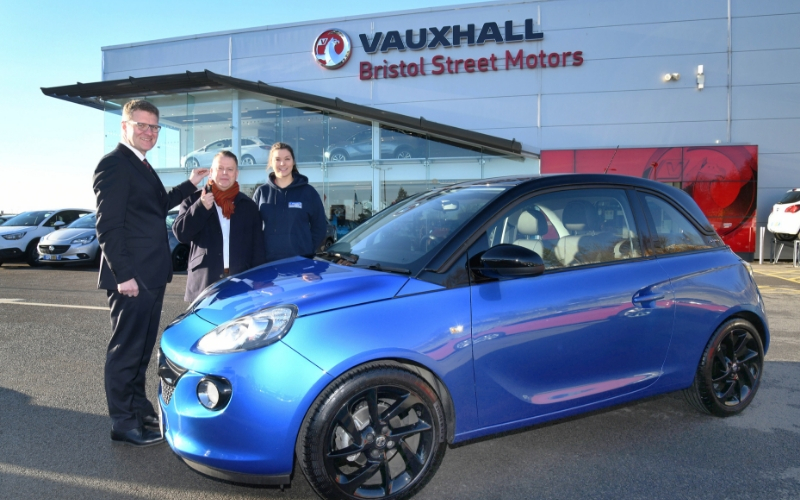 A Newcastle resident is starting the New Year with a new car thanks to three Bristol Street Motors dealerships in the North East and St Oswald's Hospice.
Bristol Street Motors Vauxhall dealerships in Hexham, Sunderland and Newcastle jointly donated a 68-plate Vauxhall Adam, which was the star prize in the charity's Annual Raffle.
Paul Duncan, 50, who won the first-place prize, has donated to St Oswald's Hospice for three years and became aware of the support that hospices provide, when his sister-in-law was admitted to a hospice in Carlisle.
The Vauxhall Adam was driven to events around the region to publicise the raffle. Paul's winning ticket was picked at random by St Oswald's Chief Executive, James Ellam at the Hospice's Annual Christmas Market. Paul was hoping to replace his 11-year-old car before winning the car.
He said: "I can't quite believe it because my car is 11 years-old and I was on the lookout for a new model. Winning this new car has saved me so much money. I still have to pinch myself because I feel as if someone is going to come along at any moment and tell me that it's a mistake!
"I am very grateful to Bristol Street Motors for handing over the car to me and would like to thank St Oswald's for the work it does. It supports families during the most difficult times of their lives and without donations, as I found when my sister-in-law went into a hospice, it wouldn't be able to do the fantastic work that makes such a huge difference."
Robert Forrester, chief executive officer of Vertu Motors plc, which operates Bristol Street Motors, said: "St Oswald's Hospice is an invaluable charity which aims to improve the quality of life for people living with a life-limiting illness. We have supported the Gosforth-based charity, and the outstanding work it does, for the past four years and we look forward to continuing this important partnership."
Anita Ball, director of income generation and marketing at St Oswald's Hospice, added: "Our Annual Raffle was, once again, an overwhelming success and I would like to thank everyone who took part. The raffle has raised over £35,000 for St Oswald's which will go a long way towards supporting local adults, young people, children and babies with incurable conditions.
"Without the generosity and kindness of people, including businesses like Bristol Street Motors, we would not be able to raise the money we need to keep our doors open every day, and we thank everyone for their support."