Mazda models prove 'invaluable' to RAF display team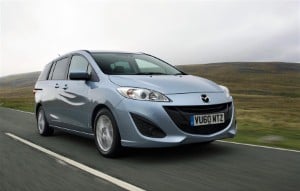 The Royal Air Force (RAF) display team has chosen two Mazda models to transport equipment and personnel.

According to the group, its busy 2011 schedule will be supported by one Mazda5 and two Mazda CX-7 models, which will help it conduct its tasks "to the highest professional standards".

The cars will be used to travel to RAF Coningsby on 50 occasions this year, while they will also transport team members to school and college visits.

Sergeant Liam Whelan, display engineering manager, said the Mazda models will prove "invaluable" to the team.

"The comfortable and spacious Mazda CX-7 and the Mazda5 with its flexible seating and sliding rear doors are ideal for transporting our team personnel, their kit and computer support equipment for the Typhoon aircraft," he commented.

Mazda was ranked number one in the UK Customer Satisfaction Index earlier this year with a score of 83.3 per cent, compared with an industry standard of 78.4 per cent.