Meet Gavin Gray: Award-winning Motability specialist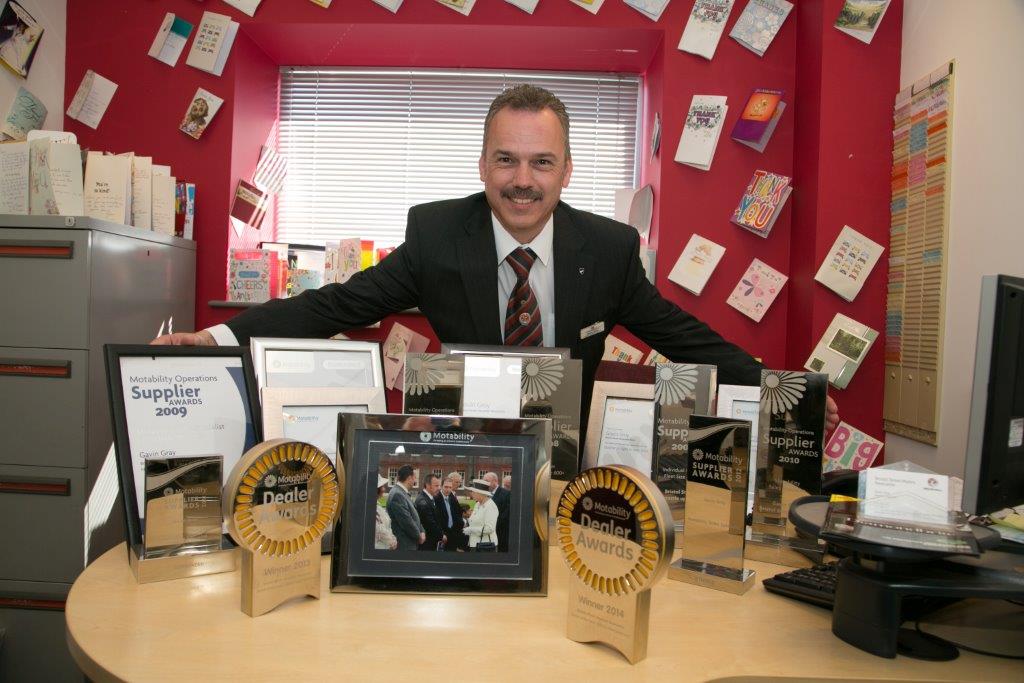 Gavin Gray, Motability Specialist at Bristol Street Motors Vauxhall Newcastle, has over 30 years' experience in the industry and continues to receive recognition from The Motability Scheme each year.
Since it was set up in 1978, Motability has helped more than 3 million people get mobile with a brand new vehicle. Many of the vehicles in the Vauxhall range are available on Motability from Nil advance payment.
Vauxhall Newcastle has been named Dealer of the Year by Motability Operations for the third time in four years, while Vertu Motors, parent company of Bristol Street Motors, picked up Dealer Group of the Year for the third year running. In an award hat-trick, Bristol Street Motors won Website of the Year for the second year in a row. To mark the momentous award wins, we spoke to Gavin about his three decades working with The Scheme, and what he loves about it.
How did you get into the Motability Scheme?
Gavin: "I've been working with Vauxhall for 34 years now, originally starting as a Junior Sales Executive here at Vauxhall Newcastle.
"I worked in new and used car sales, to begin with, and, at the time, the Motability Scheme wasn't as well-known as it is today.
"The scheme was still in its early years, but increasing in awareness, and rightly so. As a result, Vauxhall decided they wanted to have one Motability specialist within the dealerships, and that's when I was elected to the role.
"In recent years, the scheme has become increasingly popular and helped change the lives of so many people, and I am incredibly proud to have been a part of that for so many years."
What's your favourite thing about working with the Motability Scheme?
G: "For me, I absolutely love meeting our customers and seeing their lives change for the better.
"It's such an amazing feeling to see people gain so much freedom from their cars, and it wouldn't necessarily be possible without the Motability scheme.
"I'm fortunate enough to become close friends with some of our customers, knowing some of them for 25 years!"
You're definitely popular amongst your customers and have your fair share of awards… what's your secret?
G:"I love my job, and I love our customers and certainly think that reflects in the work I do.
"I've been fortunate enough to win awards but it's made worthwhile by the smile that the scheme puts on someone's face.
"I've even been lucky enough to meet the Queen! I was invited to The Royal Hospital Chelsea in 2008 to celebrate Motability's 30th anniversary, where I was introduced to the Queen, which was such a fantastic event. I also attended Motability's three millionth car handover in the presence of the Queen at Westminster Hall in October 2011, and just last month, I had a trip to Windsor Castle in celebration of Motability's 40th anniversary again in the presence of the Queen.
"It's great that I get these opportunities and amazing experiences, but certainly don't expect it."
Gavin has seen Bristol Street Motors Vauxhall Newcastle win Dealer of the Year 5 times, while he himself has been recognised countless times by Motability Operations. He won the Motability Specialist of the Year Award in 2008, 2010, and 2012.
Gavin also received the Outstanding Contribution Award in 2015, for only the second time the award was given by Motability Operations.
What car do you have? And does it have a name?
"At the minute, my main car is a Vauxhall Astra Tourer. It doesn't have a name but may need one! We also have a Vauxhall Cascada convertible, which I sometimes pinch the keys from my wife, Valerie, when the sun is out!"
When do take time away from the dealership, where's your favourite place to visit?
"I love holidays in Minorca!
"We have family who have their own villa over there, and often get the keys for a nice trip away.
"We've been going there for the past 20 years now, and absolutely love it. It's a bit like a second home to us, and if I was to choose anywhere else to live, it would be Minorca.
"Nothing beats the nice weather and a dip in the pool!"
Do you have any favourite places to drive in the North East?
"My wife and I are members of the National Trust, and so have plenty fun travelling, and get to visit some amazing places!
"I actually have a Honda CBR600 RR Motorbike and so most days out on the road, are enjoyed on that.
"My friend Ian Gibbon, who is a Warehouse Operative here at Vauxhall Newcastle also has a bike, and so we're often planning days out when we have the weather!
"It's always great fun, and have had some great trips down to places like Scarborough, Rothbury and the Lake District.
"We even had a trip to the Pyrenees for my 50th birthday, a great week of riding through France and Spain, and rode over 3,000 miles in the week!
What would be your dream car?
"I think if money was no object, I'd certainly have a Range Rover Sport, and perhaps a Porsche sat in my garage… Although they'd have to be next to some motorbikes to suit all occasions!"
With all your time on the bikes, do you have any other hobbies or pass times?
"I don't get on the bikes as much as I would like to, but it kind of makes it all the more fun when I do.
"We usually get out once a month, and any more than that is a bonus. You may be surprised, but my main hobby is actually ballroom dancing!
"I started when I was 6 years old, and a little later down the line, it was actually how I met Valerie.
"We stopped dancing for quite some time, but wanted to get back into it for a lot of years, and then around 2 years ago, we finally did.
"We're able to get out three times a week for lessons and classes, and have had some fantastic weekends away to watch competitions and events. It's always a joy, and keeps us busy doing something we both really enjoy."
Gavin works at Bristol Street Motors Vauxhall Newcastle, and he can be contacted on 0191 2986 400 to answer any of your Motability questions.
The Motability Scheme enables disabled people to exchange their Higher Rate Mobility Component of Disability Living Allowance, their Enhanced Rate of the Mobility Component of Personal Independence Payment (PIP), their War Pensioners Mobility Supplement (WPMS) or their Armed Forces Independence Payment (AFIP) for a new car, scooter or powered wheelchair.

Author: David Winter