Mill Blackbird to Redefine Cars on Film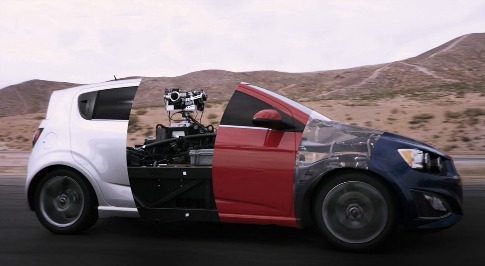 The Mill Blackbird is an unassuming car rig which is set to change the way cars are used in television, cinema and advertising. The Blackbird, created by London based VFX company The Mill, was unveiled at the Cannes Lions International Festival of Creativity. So – what exactly does it do?
The matte black rig looks like a stripped back Batmobile, and has been designed with completely alterable dimensions. The wheelbase can be adjusted by up to four feet, and its track by up to ten inches. The rig's suspension can be raised or lowered as necessary as well. All of this means that, instead of shooting a car on film, the rig can be filmed instead, and CGI mapping technology can project any chosen car over the exoskeleton provided by the rig. The adjustable dimensions of the Blackbird means it can convincingly imitate the driving characteristics of practically any car. Cornering, handling and engine power are all adjustable too, capable of mimicking any car on sale.
This technology means that advertisers and film makers can stay at the top of their game for longer. Now, when a car gains a new trim or changes are made to a script, the scene doesn't have to be re-shot. Instead, designers can edit the computer generated image of the car which has been added to the Blackbird. This will save the industry a huge amount of time and money – there is no longer a need to build expensive prototypes, or to hire and transport expensive vehicles. The Blackbird can do it all.
Expect to see the Blackbird on your televisions soon… although you might not recognise it.