New gadget can transform your phone into an in-car displays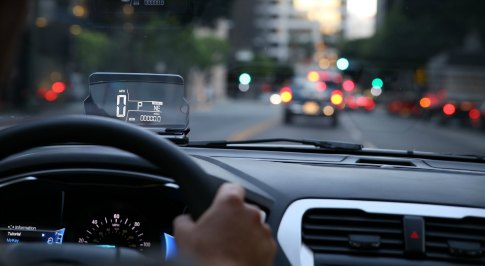 Head up displays (HUDs) are becoming an increasingly accessible option for drivers, as manufacturers like Mazda and Ford look to introduce the technology to a wider audience. HUDs provide navigation information such as your current speed and detailed directions, and all of this information is projected onto your windshield, enabling you to keep your eyes on the road at all times, rather than flicking back and forth from the dashboard.
Now, a new gizmo called the 'Mpow Universal Head Up Display' works with your smartphone to provide a unique digital display.
The gadget works with any iPhone or Android phone, and its press release boasts high reflection in all weather conditions. This means the information will be displayed clearly your windshield regardless of bright sun or night time driving, while still being transparent enough to keep driving safe and your view of the road unobstructed.
Heads up displays are well established technology, but with the development of new technology such as the above, it seems that it is becoming increasingly affordable and easy to access.