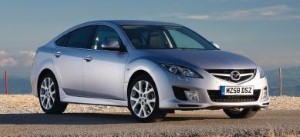 The Mazda 6 could soon be a star of the used car market after one industry publication identified its replacement.

According to Auto Express, the manufacturer has unveiled what it hopes will be the popular Mazda 6's replacement in 18 month's time.

Currently going by the name Takeri, the four-door saloon is set to make its public debut at the Tokyo Motor Show in December.

"The 173bhp 2.2-litre engine is all new, and will return around 60mpg. Revving smoothly to 5,500rpm, it can generate up to 400Nm of torque and promises strong in-gear acceleration," the magazine explained.

"As with the Minagi concept that previewed the CX-5, the Takeri is believed to be a close representation of the upcoming 6, and has been penned by chief designer Akira Tamatani."

Meanwhile, the latest Britcar 24-hour Race at Silverstone saw all three of the Jota-prepared Mazda MX-5 cars finish the endurance event.