New Mazda5 to be released this year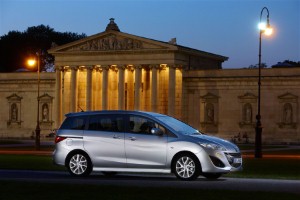 Mazda is poised to release the new Mazda5 across Europe this autumn.

The new model will succeed the manufacturer's first-generation multi-activity vehicle (C-MAV), which proved popular among families due to its reliability, spaciousness and safety record.

The original vehicle has been purchased by 500,000 drivers worldwide and 175,000 in Europe alone.

It won 37 industry awards after its market launch in 2005.

The new Mazda5 will feature a Nagare flow design for a sporty appearance and a driver-oriented dashboard, as well as new 16 and 17-inch alloy wheel designs.

"The New Mazda5 was developed from the ground up to carry over this successful tradition with an appealing combination of great exterior styling, superior safety and interior functionality that exceeds what people expect of a C-MAV," Mazda states.

Currently, around 80 per cent of components from end-of-life Mazdas are recycled, the company adds.

Mazda is showcasing a number of models at the Paris Motor Show this month, including the new Mazda5 and Mazda2.