New Nissan Qashqai delivers subtle enhancements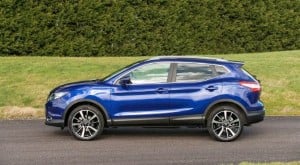 The all-new Nissan Qashqai is the product of seemingly modest upgrades that together have led to a remarkable transformation.

Described by the Japanese car manufacturer as "the ultimate city crossover", this revamped model has experienced a "shrewd" makeover.

The 1.2-litre engine – with a six-speed gearbox – delivers the kind of raw power that seems impossible on a vehicle this size, but that goes to show how deep the enhancements made by Nissan go.

These developments seem to contradict what is possible, but there you have it, the Qashqai punches above its weight and effortlessly so.

The design is edgy and athletic in scope, while the overall shape merges the off-road qualities with hatchback sensibilities in an effective way.

As standard, the model comes fitted with Bluetooth and USB functions, heated mirrors, air conditioning and start/stop technology.

Topped off with a sleek, no-nonsense interior and gleaming LED lights, this is understated luxury at its best. It will certainly appeal to a wider customer base.

As Nissan itself states, it is bold, technological and "made to empower all those who drive it".