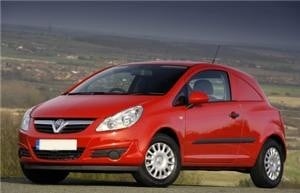 Vauxhall has described the latest edition to its Corsavan commercial vehicle range as "top of its class" in eco-friendly motors.

Many businesses could be checking out the green credentials of business motors before taking them for a test drive, particularly as fuel prices are on the rise and firms are trying to cut costs where they can.

The new Vauxhall Corsavan ecoFLEX may be just what they're looking for, as the Luton-based brand has announced the motor is its "most economical commercial vehicle ever".

Improvements to the model's design include aerodynamic wheel covers, a variable geometry turbocharger and a "shift up" indicator on the gears.

Add to that its low 95g per km CO2 emissions and you have a carbon-efficient, euro-5 compliant van that can be driven away at just £13,048.33 on the road.

"It's great news that the Corsavan ecoFLEX is top of its class for CO2 emissions," commercial vehicle brand manager for Vauxhall Steve Bryant said.

He noted the money-saving benefits of using the motors, claiming that "griffin-badged vans are well known for their low running costs".

The number of green vehicles on the market is steadily increasing, with many brands pitching their own carbon-efficient cars, such as Nissan's all-electric LEAF.