New Vauxhall Meriva 'helps reduce back strain'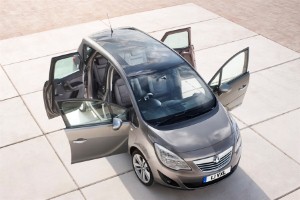 The new Vauxhall Meriva can lower the level of strain on the back by some 58 per cent when compared to a standard car, the manufacturer claims.

A new rear-hinged 'FlexDoor' helps to reduce the straining and twisting motion needed to get in and out of the back seats of the car, Vauxhall says.

Research conducted at Coventry University into the actions that owners of the car are likely to carry out, such as loading object in and out of the vehicle and helping children get settled showed that strain is reduced when compared to a car with standard doors.

Leader of the research project Dr James Shippen said: "With this research we wanted to prove that the new Meriva could actually help the physical wellbeing of drivers everywhere. The results speak for themselves - you'll be putting significantly less strain on your back with this car."

The research found that twists on the back are reduced by 48 per cent thanks to the rear-hinged doors, while the load put on muscles is cut by some 58 per cent.

Earlier this month, the latest incarnation of the popular Vauxhall Astra model was awarded as the best tow car in its class, where cars weighed between 1425 kg and 1574 kg.