Nissan launches new Qashqai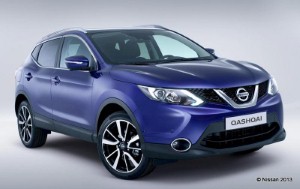 Nissan has unveiled the highly-anticipated new Qashqai model at an event in London, which it described as the "most significant milestone" in the crossover segment for seven years.

New innovative technology, a second-generation design and enhanced dynamics have all come together to form the new model, which will go on sale in selected markets from January 2014.

The distinctive design features of the new model include a clamshell-style bonnet, while the cabin is packed with advanced technology.

Nissan's Safety Shield technologies has added Front Collision Avoidance, Driver Attention Support and Traffic Sign Recognition to the Qashqai, along with several other vital driver aids.

Intelligent Park Assist has also been added to the package to take some of the stress out of some manoeuvres.

The engines available in the Qashqai range have not escaped the attention of Nissan's engineers, as the powertrains on offer are more efficient than ever, due to the addition of turbochargers to reduce capacity, emissions and fuel consumption, while maintaining CO2 emissions of just 99g/km.

Nissan has also delivered greater occupant space and a larger luggage capacity thanks to the addition of a variable floor system.

The new model has been designed and created in the UK, Japan and Spain and will be built at the firm's factory in Sunderland.