Peugeot 5008 named MPV of the year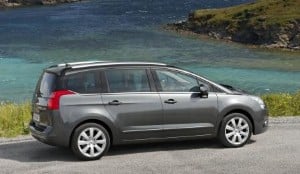 The Peugeot 5008 continued its multi-award-winning run in Scotland.

Already a celebrated MPV, the Peugeot 5008 was named Scottish MPV of the Year by the Association of Scottish Motoring Writers at the Scottish Car of the Year Awards in St. Andrews.

The compact vehicle defeated strong competition from a number of other marques, including the impressive Ford S-Max and Mazda 5 to claim the top spot in the segment after voting.

A seven-seater capable of multi-tasking, the 5008 has already claimed What Car?'s Best MPV and its Green Awards MPV, while Diesel Car magazine named it MPV of the Year before going on to put it above all other diesel vehicles with its Car of the Year title.

Communications director Andrew Didlick said: "This award is further demonstration of the progress and appeal of our new products and comes significantly in the brand's 200th anniversary year. Peugeot is really on a roll at the moment."

Meanwhile, Peugeot's latest generation electric vehicle, the Peugeot i0n, won the 2010 Green Steering Wheel award in Germany this month.